Judgment of Paris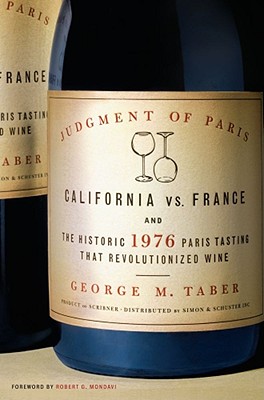 Judgment of Paris
California Vs. France and the Historic 1976 Paris Tasting That Revolutionized Wine
Scribner Book Company, Hardcover, 9780743247511, 327pp.
Publication Date: September 27, 2005
* Individual store prices may vary.
Buy at Local Store
Enter your zip code below to purchase from an indie close to you.
or
Buy Here
Description
The only reporter present at the mythic Paris Tasting of 1976--a blind tasting where a panel of esteemed French judges chose upstart California wines over France's best--for the first time introduces the eccentric American winemakers and records the tremendous aftershocks of this historic event that changed forever the world of wine.
The Paris Tasting of 1976 will forever be remembered as the landmark event that transformed the wine industry. At this legendary contest--a blind tasting--a panel of top French wine experts shocked the industry by choosing unknown California wines over France's best.
George M. Taber, the only reporter present, recounts this seminal contest and its far-reaching effects, focusing on three gifted unknowns behind the winning wines: a college lecturer, a real estate lawyer, and a Yugoslavian immigrant. With unique access to the main players and a contagious passion for his subject, Taber renders this historic event and its tremendous aftershocks--repositioning the industry and sparking a golden age for viticulture across the globe. With an eclectic cast of characters and magnificent settings, "Judgment of Paris" is an illuminating tale and a story of the entrepreneurial spirit of the new world conquering the old.
About the Author
George M. Taber is the author of the bestselling Judgment of Paris, which recounts the story of the famous 1976 event when unknown California wines defeated top French ones. Taber's second book, To Cork or Not to Cork, won the Jane Grigson Award and was a finalist for the James Beard Award. Before turning to writing books, Taber was a reporter and editor with TIME magazine for twenty-one years, based in Bonn, Paris, Houston, and New York.
Praise For Judgment of Paris…
"Here's the inside tale of the dramatic tasting session that transformed the wine industry. George Taber was the only reporter there, and he tells the tale with the same authority, depth and clarity of the American wines that won. His tale has fascinating characters, great locales, and a fine bouquet."
-- Walter Isaacson, author of Benjamin Franklin




"For those of us who were lucky enough to be part of the fun at Steven Spurrier's wine shop in Paris, this book is a trip down memory lane. For everyone else, Taber brings the event to life brilliantly with insightful portraits and a reporter's eye for telling detail."
-- Don and Petie Kladstrup, authors of Wine & War




"Nearly thirty years later, Taber's book outlines an historic event that is relevant, captivating and compelling -- even for non-wine aficionados. The petty wine war that the Paris Tasting set off had one big winner: good wine. And one big loser: good wine...from France."
-- Christian Vannequé, Former chief sommelier at the Tour d'Argent restaurant in Paris and one of the judges at the Paris Tasting



"George Taber was alone among journalists to attend the wine world's Declaration of Independence from French supremacy. He tells the story of the California wine revolution with verve showing how the upstarts managed to surprise the complacent French. This is a rare book about wine to be sipped, not gulped."
-- William Echikson, author of Noble Rot


"The Judgment of Paris is a fascinating recounting of that historic event that was like a lightning rod to the budding wine scene in California. It is a must read for anyone interested in wine."
-- Daniel Johnnes, Wine Director Montrachet and President Daniel Johnnes Wines




"Spirited, intelligent, and a deliciously entertaining good read. Essential for anyone who has ever enjoyed a good bottle of California wine."
-- Anthony Dias Blue, Executive Director of the San Francisco International Wine Competition



"I devoured Judgment of Paris and it is dazzling -- reads like a thriller, with the added benefit that the scholarship is impeccable too!"
-- Orley Ashenfelter, the Joseph Douglas Green 1895 Professor of Economics at Princeton University and Publisher of Liquid Assets: The International Guide to Fine Wines