Bobby Flay's Boy Gets Grill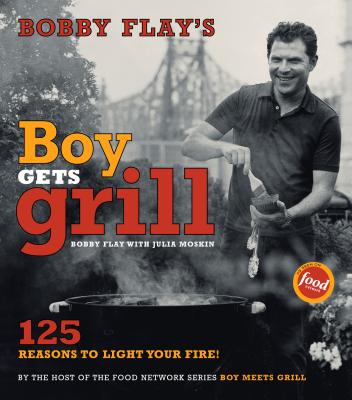 Bobby Flay's Boy Gets Grill
125 Reasons to Light Your Fire!
Scribner Book Company, Hardcover, 9780743254816, 320pp.
Publication Date: May 18, 2004
* Individual store prices may vary.
Buy at Local Store
Enter your zip code below to purchase from an indie close to you.
or
Buy Here
Description
Sequel to the bestselling "Boy Meets Grill, Boy Gets Grill" marks Bobby Flay's return to the fire with his first grilling book in five years.
The connection between Flay and fire began when, as a kid growing up in New York City, Bobby learned to grill during trips to the Jersey Shore. As a young chef starting out, he always wanted to work the grill station, and when he opened his first restaurant in 1991, he called it Mesa Grill. The word "grill" was firmly hooked to his name. And then, the Food Network called.
Like his highly rated prime-time grilling show, "Boy Gets Grill" is set on a rooftop in Queens overlooking the Manhattan skyline and celebrates the explosive flavors of his hometown's diverse neighborhoods. This is Bobby Flay's New York, and everywhere he goes, there is great grilling: from Chinatown to Astoria, Queens (Greek food); Arthur Avenue in the Bronx (for old-style Italian); and lower Lexington Avenue (better known as Curry Hill, for Indian); and the flavors go on and on.
The question isn't "Can I grill this?" but "Is there a reason not to grill this?" Usually the answer is "Go ahead and try it " Throughout, Bobby gets more and more out of the grill, making life easier and encouraging everyone to think big, have fun, and get their hands dirty.
The grill is no longer for weekends only. The recipes in "Boy Gets Grill" are the quickest and easiest that Bobby has ever created, making the grill a perfect vehicle for busy weeknight meals. Flavors are (pleasantly) challenging. For the simplest of suppers, try Grilled Quesadillas with Sliced Steak, Blue Cheese, and Watercress; Grilled Shrimp with Triple Lemon Butter; Grilled Tuna with Red Chile, Allspice, and Orange Glaze; or a Pressed Cuban-Style Burger.
"Boy Gets Grill" is also full of great ideas for entertaining and enjoying the company of family and friends. In the "Big Parties" section, Bobby takes hosts and hostesses through every step of preparation for a Fish Taco Party, Burger Bar, and a Skewer Party (perfect for backyard cocktail parties where one hand stays free to hold a glass). There are even recipes for brunch on the grill.
The book includes cool drinks to sip while the fire gets hot, as well as appetizers, salads, simple desserts, and, of course, the meats, fish, and poultry that everyone loves to grill. Bobby also gives tips on what equipment you need to grill (and more important, what you don't); six simple (and decidedly low-tech) steps to test for doneness; how to gauge how hot your fire is; and Bobby's Guide to Steak.
About the Author
Bobby Flay is one of the most beloved -- and famous -- chefs in America. He is the food correspondent for CBS's "The Early Show, " appearing biweekly to report on food and cooking across America. In addition to his highly rated prime-time Food Network show "Boy Meets Grill, " his newest show, "BBQ America with Bobby Flay, " debuted in the summer of 2004. He is the chef-co-owner of two celebrated New York City restaurants, Mesa Grill and Bolo, which recently received a three-star rating from "The New York Times, " and is opening Mesa Grill Las Vegas in the summer of 2004. This is his fifth book.



John Dolan is a critically-acclaimed artist living and working in Shoreditch, east London. For the past three years he and his dog George have sat out on Shoreditch High Street, while John sketched the world around him. Some of his sketches formed part of John s first solo show, George the Dog, John the Artist, which was a sell out in September 2013.