About Grace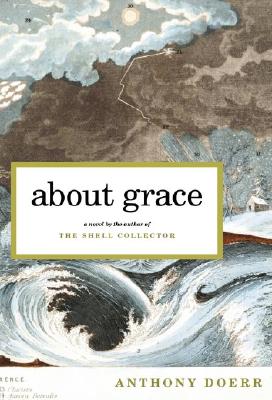 About Grace
Scribner, Hardcover, 9780743261821, 416pp.
Publication Date: September 21, 2004
* Individual store prices may vary.
Buy at Local Store
Enter your zip code below to purchase from an indie close to you.
or
Not Currently Available for Direct Purchase
Description
When Anthony Doerr's "The Shell Collector" was published in 2002, the "Los Angeles Times" called his stories "as close to faultless as any writer -- young or vastly experienced -- could wish for." He won the Rome Prize from the American Academy of Arts and Letters, the Discover Prize, Princeton's Hodder Fellowship, and two O. Henrys, and shared the Young Lions Award. Now he has written one of the most beautiful, wise, and compelling first novels of recent times.
David Winkler begins life in Anchorage, Alaska, a quiet boy drawn to the volatility of weather and obsessed with snow. Sometimes he sees things before they happen -- a man carrying a hatbox will be hit by a bus; Winkler will fall in love with a woman in a supermarket. When David dreams that his infant daughter will drown in a flood as he tries to save her, he comes undone. He travels thousands of miles, fleeing family, home, and the future itself, to deny the dream.
On a Caribbean island, destitute, alone, and unsure if his child has survived or his wife can forgive him, David is sheltered by a couple with a daughter of their own. Ultimately it is she who will pull him back into the world, to search for the people he left behind.
Doerr's characters are full of grief and longing, but also replete with grace. His compassion for human frailty is extraordinarily moving. In luminous prose, he writes about the power and beauty of nature and about the tiny miracles that transform our lives. "About Grace" is heartbreaking, radiant, and astonishingly accomplished.
About the Author
Anthony Doerr is the author of a collection of short stories, The Shell Collector, the novel About Grace, and a memoir titled Four Seasons in Rome. His books have been a New York Times Notable Book, an American Library Association Book of the Year, a "Book of the Year" in the Washington Post, and he has won the Barnes & Noble Discover Prize, the Rome Prize, the Hodder Fellowship from Princeton, and shared the New York Public Library's Young Lions Fiction Award. His book reviews have appeared in the New York Times and Der Spiegel, and he writes the "On Science" column for the Boston Globe. Doerr is the Writer-in-Residence for the state of Idaho.