Survival of the Savvy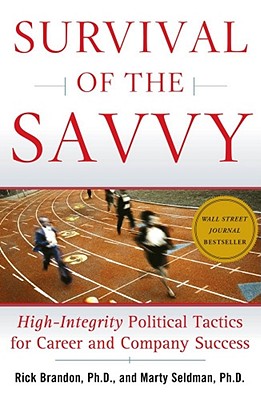 Survival of the Savvy
High-Integrity Political Tactics for Career and Company Success
Free Press, Hardcover, 9780743262545, 320pp.
Publication Date: December 6, 2004
* Individual store prices may vary.
Buy Now
or
Shop Local
Enter your zip code below to purchase from an indie close to you.
Description
Two of the nation's most successful corporate leadership consultants now reveal their proven, systematic program for using the power of "high-integrity" politics to achieve career success, maximize team impact, and protect the company's reputation and bottom line.
Each day in business, a corporate version of "survival of the fittest" is played out. Power plays, turf battles, deceptions, and sabotages block individuals' career progress and threaten companies' resources and results. In "Survival of the Savvy, " Rick Brandon and Marty Seldman provide ethical but street-smart strategies for navigating corporate politics to gain "impact with integrity," helping readers to:
-Identify political styles at work through the Style Strengths Finder, and avoid being under or overly political
-Discover the corporate "buzz" on you, and manage the corporate "airwaves"
-Decipher unwritten company rules and protect yourself from sabotage and hidden agendas
-Build key networks to promote yourself and your ideas with integrity
-Learn to detect deception and filter misleading information
-Increase your team's organizational savvy, influence, and impact
-Gauge the political health of the company and forge a high-integrity political culture
In addition, "Survival of the Savvy" helps individuals discover and overcome their own political blind spots and vulnerabilities. They learn step-by-step methods to avoid being underestimated or denied full recognition for their achievements. It shows them how to put forward their ideas and advance their careers in an ethical manner, with a high level of political awareness and skill.
After reading this book, you will never have to say, "I didn't see it coming." Organizational savvy is a mission-critical competency for the complete leader. This timely and timeless book provides cutting-edge strategies and skills for surviving and thriving as you build individual and company success.
About the Author
Rick Brandon, Ph.D., is CEO of Brandon Partners, offering flagship workshops on Organizational Savvy and the Motivational Tool Kit. With thirty years of performance improvement experience, he has trained tens of thousands at companies worldwide, including scores of Fortune 500 companies. He is married with two children and lives in Mill Valley, California.

Marty Seldman, Ph.D., is one of the country's most experienced executive coaches, having had in-depth, one-on-one assignments with over thirteen hundred top executives. His thirty-five-year career includes expertise in group dynamics, clinical psychology, training, and executive coaching. He is the author of "Performance Without Pressure" and "Super Selling Through Self-Talk." Married with three children, he lives in Montclair, New Jersey
Praise For Survival of the Savvy…
Politics are a reality in any organization, but as this terrific book shows, you don't have to throw your ethics and integrity out the window to master the game. Brandon and Seldman's fresh approach to a taboo topic is as entertaining as it is inspiring. Survival of the Savvy will teach you how to avoid the ego trips and journey with others to greatness.


Ken Blanchard, coauthor of The One Minute Manager and Customer Mania!



Seldman and Brandon have years of experience coaching and training at companies like PepsiCo to help executives navigate the complexities and ambiguities of organizational politics with integrity and positive impact. Their practical tips on reading political styles, building a network, and exercising verbal discipline are invaluable.


Michael D. White, Chairman and CEO, PepsiCo International


Finally, a book that speaks the truth about corporate power, influence, and the science of relationships. A must read for serious corporate leaders and, equally important, aspiring leaders!


Jovita Thomas-Williams, Vice President, Human Resources, MGM Grand Detroit Casino


Survival of the Savvy provides CEOs, business leaders, and their teams with vital new insights and essential skills. The authors set the bar at a new height in describing how to effectively understand and influence others and how to ensure a values- based and high-performance work culture.


Edward Ludwig, Chairman, CEO, and President, Becton, Dickinson and Company


Brandon and Seldman, two clever writers, give a lifeline to anyone treading water or trying synchronized swimming in the corporate shark tank...They fill their book with practical, tactical tips to help protect their readers' assets.


Harvey Mackay, author of Swim With the Sharks Without Being Eaten Alive


Brandon and Seldman tap into the nervous system of corporations and offer fascinating straight talk about a tacit business taboo -- their writing is engaging, entertaining, and easy to relate to.


Deborah Harrington, National Training Director, Citibank North America


They're not kidding when they say "survival;" even Darwin would have approved of this objective look at the precise intricacies of human behavior. If you take office politics seriously, you'll appreciate the weighty analysis Brandon and Seldman bring to even the most obscure workplace scheming. Brandon and Seldman take on the role of corporate anthropologists, dissecting how office politics work and what you can do to master them ethically.


FAST COMPANY'S READER'S CHOICE AWARD REVIEW, FEBRUARY, 2005


"Ever had an idea stolen by someone brash enough to present it as his or her own idea at a VP meeting? Brandon and Seldman offer serious research to substantiate this all-too-prevalent work problem and outline the many ways the politically inept can develop the savvy political instincts we all need to feel valued at our work."


BOOKPAGE


This is a book about what these two mega-powered business consultants call using "high-integrity" politics as a useful change agent...Not incidentally, through case studies, they analyze self-defense strategies to insulate executives from well-known banditos lurking along the trailway to the top.


BUSINESS 2 BUSINESS, JANUARY, 2005


This work will help employees navigate office politics in almost any kind of setting. Corporate consultants Brandon and Seldman offer practical advice, starting with the assumption that engaging in office politics is vital to one's career. Recommended for larger public libraries and all business management collections.


LIBRARY JOURNAL, November 15, 2004