Killing Yourself to Live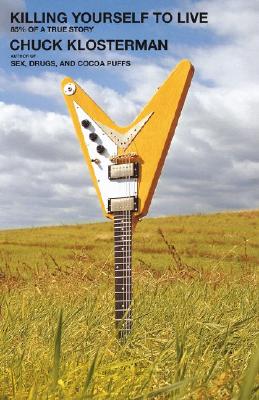 Killing Yourself to Live
85% of a True Story
Scribner, Hardcover, 9780743264457, 256pp.
Publication Date: June 28, 2005
* Individual store prices may vary.
Not Currently Available for Direct Purchase
or
Shop Local
Enter your zip code below to purchase from an indie close to you.
Description
For 6,557 miles, Chuck Klosterman thought about dying. He drove a rental car from New York to Rhode Island to Georgia to Mississippi to Iowa to Minneapolis to Fargo to Seattle, and he chased death and rock 'n' roll all the way. Within the span of twenty-one days, Chuck had three relationships end -- one by choice, one by chance, and one by exhaustion. He snorted cocaine in a graveyard. He walked a half-mile through a bean field. A man in Dickinson, North Dakota, explained to him why we have fewer windmills than we used to. He listened to the KISS solo albums and the Rod Stewart box set. At one point, poisonous snakes became involved. The road is hard. From the Chelsea Hotel to the swampland where Lynyrd Skynyrd's plane went down to the site where Kurt Cobain blew his head off, Chuck explored every brand of rock star demise. He wanted to know why the greatest career move any musician can make is to stop breathing...and what this means for the rest of us.
About the Author
Chuck Klosterman is the New York Times bestselling author of Downtown Owl; Chuck Klosterman IV; Killing Yourself to Live; Sex, Drugs, and Cocoa Puffs; and Fargo Rock City, winner of the ASCAP-Deems Taylor Award. He is a Contributing Editor for Esquire, a regular contributor to The New York Times Magazine, and has also written for Spin, The Washington Post, The Guardian, The Believer, A.V. Club, and ESPN. Klosterman grew up on a farm near Wyndmere, North Dakota. After graduating from the University of North Dakota, he wrote for the Fargo Forum and the Akron Beacon Journal. Klosterman is published in eight territories and seven languages. Klosterman lives in New York City.