To Punish and Protect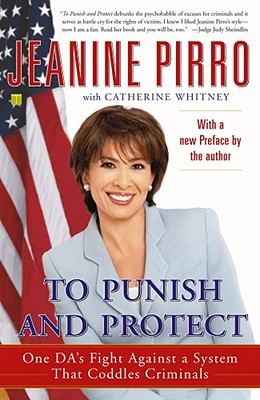 To Punish and Protect
Against a System That Coddles Criminals
Touchstone Books, Paperback, 9780743265683, 304pp.
Publication Date: October 5, 2004
* Individual store prices may vary.
Buy Now
or
Shop Local
Enter your zip code below to purchase from an indie close to you.
Description
Deemed "the avenging angel of American justice" (Chris Matthews, "Hardball"), Jeanine Pirro, the famed Westchester County district attorney, presents hard truths about a justice system that she believes coddles criminals at the expense of innocent victims. Taking readers inside her daily battles on behalf of victims -- from the adolescent girl forced to assume wifely duties after her father murdered her stepmother to a hardworking man shot over a parking place -- District Attorney Pirro delivers a bold indictment of the criminal justice system and lays bare the ways in which parents, communities, and the system share complicity in fostering a dangerous environment for our citizens.
With the blunt courage of a woman who has spent her entire career working in a male-dominated world, Pirro demonstrates determination and compassion that will inspire anyone who has ever been a victim -- or a victim's loved one.
Finally, "To Punish and Protect" includes updated appendixes to help you and your loved ones make smart decisions about safety.
About the Author
Jeanine Pirro is the former district attorney of Westchester County, where she started the first domestic violence unit in a prosecutor s office in the US. She is an Emmy Award winner, a legal analyst for Fox News, and the host of "Justice with Judge Jeanine, "as well as the author of several books, including "To Punish and Protect: Against a System That Coddles Criminals."

Catherine Whitney is a New York-based writer who has written or cowritten more than forty books on a wide range of topics. She is the author of The Calling: A Year in the Life of an Order of Nuns and the coauthor with nine female U.S. senators of Nine and Counting: The Women of the Senate.
Praise For To Punish and Protect…
Judge Judy Sheindlin To Punish and Protect debunks the psychobabble of excuses for criminals and it serves as a battle cry for the rights of victims. I knew I liked Jeanine Pirro's style -- now I am a fan. Read her book and you will be, too.



Publishers Weekly This book serves several purposes: to stoke public consciousness of crime and contempt for criminals, to mobilize support for toughening the penal laws, and to position the author as a remorselessly angry crusader....



New York Law Journal I defy any reader...to be unmoved.