Malice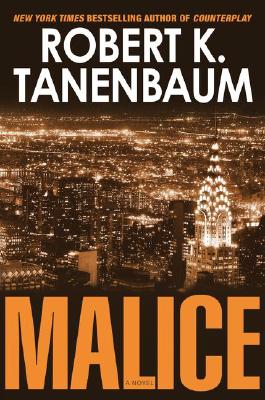 Malice
Atria Books, Hardcover, 9780743271196, 448pp.
Publication Date: August 7, 2007
* Individual store prices may vary.
Not Currently Available for Direct Purchase
or
Shop Local
Enter your zip code below to purchase from an indie close to you.
Description
The Karp family is back at it in Malice, bestselling author Robert K. Tanenbaum's most suspenseful book yet in the Butch Karp/Marlene Ciampi series.
New York District Attorney Butch Karp, recovering from an assassination attempt that came within a few millimeters of killing him, takes on a shadowy cartel that uses terrorists to further its criminal empire while sliding the United States toward a fascist state that the cartel controls. As Karp struggles to uncover those responsible for planning the terrorist murders of six school- children, he goes to the aid of the younger brother of his college roommate, who has been unfairly suspended from his position as baseball coach at a university in Idaho.
Meanwhile, Marlene Ciampi is in Idaho to help her husband with the investigation, and she befriends a Basque sheepherder who is demanding answers to the disappearance of his daughter -- a pretty college coed he suspects is having an affair with the school's president -- which may be related to Karp's case. And if that wasn't enough, the couple's daughter, Lucy, and her eclectic group of accomplices must uncover a traitor's plot and stop an assassination attempt surreptitiously planned to occur in the heart of Manhattan.
Malice is filled with twists and story lines torn from today's headlines, and once again delivers Tanenbaum's one-of-a-kind courtroom scenes that, by the exciting climax, have been woven into a single, brilliant tapestry of action and suspense.
About the Author
Robert K. Tanenbaum has been homicide bureau chief of the New York criminal courts where 250 new cases arrive daily and ran the homicide bureau for the New York District Attorney's Office and served as deputy chief counsel to the Congressional committee investigations into the assassinations of President John F. Kennedy and Dr. Martin Luther King Jr. Most recently, he has taught Advanced Criminal Procedure at the University of California at Berkeley, Boalt Hall School of Law. His previous works include the novels Outrage, Betrayed, Capture, Escape, Malice, Fury, Hoax, Resolved, Enemy Within, and Absolute Rage and true-crime books The Piano Teacher: The True Story of a Psychotic Killer and Badge of the Assassin.