Dead Certain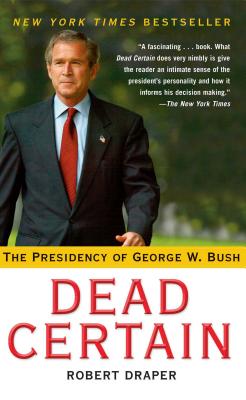 Dead Certain
The Presidency of George W. Bush
Free Press, Paperback, 9780743277297, 463pp.
Publication Date: March 2008
* Individual store prices may vary.
Shop Local
Enter your zip code below to find indies closest to you.
Description
In this ambitious work of political narrative, Robert Draper takes us inside the Bush White House and delivers an intimate portrait of a tumultuous decade and an embattled administration.Virtually every page of this book crackles with scenes, anecdotes, and dialogue based on access to every principal actor in the Bush administration, including six newsmaking interviews with the president himself.
Praise For Dead Certain…
"A fascinating...book. What Dead Certain does very nimbly is give the reader an intimate sense of the president's personality and how it informs his decision making." - The New York Times

"What Draper does with great skill in Dead Certain is debunk caricatures of George Bush, both positive and negative. In place of the dim-witted bogeyman of the left and the resolute hero of the right, Draper introduces a three-dimensional man full of contradictions." -- Salon.com

"A fascinating look at both [the Bush] presidency and his personality." -- Brian Williams, NBC Nightly News

"Draper is no apologist for the administration, and for Bush-bashers there are plenty of nuggets.... But the overall portrait sheds a humanizing light on a much-vilified president." -- Los Angeles Times

"An intimate portrait of a White House racked by more infighting than is commonly portrayed." -- The Washington Post

"Amazing...stunning." -- New York Post

"Washington's hottest dinner-party book this autumn." -- The Observer (UK)