Williams-Sonoma Bride & Groom Cookbook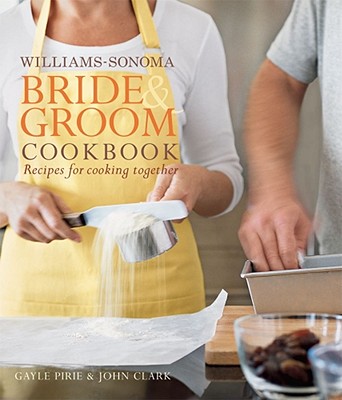 Williams-Sonoma Bride & Groom Cookbook
Recipes for Cooking Together
Free Press, Hardcover, 9780743278553, 255pp.
Publication Date: March 14, 2006
* Individual store prices may vary.
Buy Now
or
Shop Local
Enter your zip code below to purchase from an indie close to you.
Description
Williams-Sonoma presents its first bride & groom cookbook: a beautiful guide to everything newlyweds need to know about cooking for two, from stocking a kitchen to quick weeknight dinners to preparing a first holiday feast.
Whether it was a whirlwind romance or you've known each other for years, you are entering a new stage of life. Now that you're married, it's time to think about the new life and traditions you'd like to create. Often our fondest family memories are centered around the dinner table, with the fulfilling meals and companionship it offers.
To create this cookbook, Gayle Pirie and John Clark have drawn from their experience as restaurant chefs and on their shared history as a married couple. They have cooked in some of San Francisco's best restaurants for nearly twenty years, so they know how to make food taste delicious. But they also know what it's like to come home from a long day of work and want to create a comfortable haven for their family. In these pages, Gayle and John have brought together dozens of their own favorite dishes that can create hundreds of family meals.
Knowing that most of their readers won't have learned the art of cooking at their grandmother's knee, they've also included the basics. The "Bride & Groom Cookbook" explains all you need to know about setting up a kitchen and pantry with essential equipment and ingredients, combining dishes to create a meal, and even cooking methods. If you're already comfortable in the kitchen, you'll find plenty of valuable advice on pairing wine and food, serving a cheese course, and gracious entertaining.
The two of you could take only one cookbook with you as you embark together into this new and rewarding stage of life, the "Bride & Groom Cookbook" would truly be the one.
About the Author
Gayle Pirie met John Clark in the kitchen of San Francisco's Vicolo Pizzeria, moving on to Zuni Cafe, where they discovered their special affinity for eggs during the years they were responsible for the restaurant's eclectic weekend brunches. The former chef is now a sought-after restaurant consultant with an international client base.

John Clark is editor and compiler of a great many dictionaries over many years, has compiled this dictionary with the aid of economics specialists.

A treasured American icon, Chuck Williams opened the first Williams-Sonoma store in the town of Sonoma in 1956, later moving it to San Francisco. His humble shop has now grown to more than 260 stores across the country. Under his watchful eye, more than 300 branded cookbooks have been published to date. America's best-loved brand of cookbooks have sold over 32 million copies.
Praise For Williams-Sonoma Bride & Groom Cookbook…
"I love to eat Gayle Pirie and John Clark's food at their San Francisco restaurant Foreign Cinema, so it is a pleasure to have their recipes at hand in this cookbook. More than that, it's a wonderful primer for any young couple just starting out, showing them everything they need to know about setting up a kitchen and pantry, cooking and serving food and wine, and entertaining with grace."
-- Chuck Williams