The Five Lessons a Millionaire Taught Me about Life and Wealth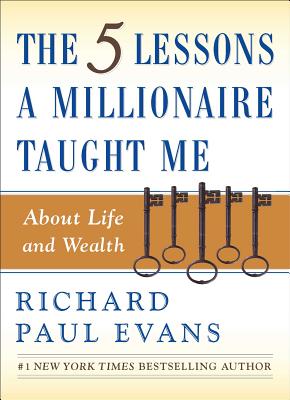 The Five Lessons a Millionaire Taught Me about Life and Wealth
Fireside Books, Hardcover, 9780743287005, 133pp.
Publication Date: January 10, 2006
* Individual store prices may vary.
Buy Now
or
Shop Local
Enter your zip code below to purchase from an indie close to you.
Description
Easy to understand and simple to apply, "The Five Lessons a Millionaire Taught Me About Life and Wealth" is one of the most powerful books ever written about money. This book will change your life.
When Richard Paul Evans was twelve, his father, a building contractor, shattered both his legs. With no insurance, no income, and eight children, the family was destitute. At that difficult time young Evans was introduced to a kind multimillionaire who taught him the five secrets of wealth. Today, Evans credits those lessons not just with bringing him wealth and success but with bringing him freedom and opportunity in a world where financial slavery is ubiquitous.
In his signature motivational voice, Evans interweaves those influential lessons with personal stories from everyday people. He explains that money should not be the preoccupation of our lives. Rather, if we follow the five principles, we will be free to focus on God, family, and relationships -- the true nourishments of life.
Wise and compelling, "The Five Lessons a Millionaire Taught Me About Life and Wealth" can be read in a single sitting and will leave you with a new view of what it means to be rich -- and convinced that you, too, can build wealth. "The Five Lessons a Millionaire Taught Me About Life and Wealth" is endorsed by financial consultants, churches, schools, and marriage counselors.
You cannot afford to be without this book.
About the Author
Richard Paul Evans is the #1 bestselling author of "The Christmas Box". Each of his more than twenty-five novels has been a "New York Times "bestseller. There are more than twenty million copies of his books in print worldwide, translated into more than twenty-four languages. He is the recipient of numerous awards, including the American Mothers Book Award, the "Romantic Times" Best Women s Novel of the Year Award, the German Audience Gold Award for Romance, two Religion Communicators Council Wilbur Awards, the "Washington Times" Humanitarian of the Century Award and the Volunteers of America National Empathy Award. He lives in Salt Lake City, Utah, with his wife, Keri, and their five children. You can learn more about Richard on Facebook at Facebook.com/RPEFans, or visit his website, RichardPaulEvans.com.
Praise For The Five Lessons a Millionaire Taught Me about Life and Wealth…
"Oliver Wendell Holmes taught, 'I would give a fig for the simplicity on this side of complexity, but I would give my right arm for the simplicity on the far side of complexity.' These five lessons represent that simplicity with a larger sublime context."
-- Dr. Stephen R. Covey, author of The 7 Habits of Highly Effective People



"Richard Paul Evans not only teaches the prudent acquisition of wealth but the proper way to use it. I would as readily recommend this book to the young, cash-strapped newlywed couple as to the manager of a multibillion-dollar enterprise."
-- Robert C. Gay, managing director, Bain Capital



"In The Five Lessons a Millionaire Taught Me About Life and Wealth, RichardPaul Evans explains in a concise and, therefore, powerful way the principles of wealth. You, who are willing to put the five lessons into practice, will become wealthy. And in doing so, you will increase your powers of opportunity and your ability to be generous in a faltering world."
-- Hyrum Smith, cofounder, Franklin Covey



"As president of the American Medical Association, I saw firsthand the health risk imposed by debt and poverty....I personally recommend this book to anyone wishing for better health, a happier marriage, or a better life."
-- Dr. John Nelson, former president, American Medical Association