The Halo Effect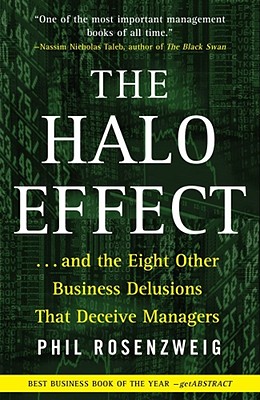 The Halo Effect
... and the Eight Other Business Delusions That Deceive Managers
Free Press, Paperback, 9780743291262, 256pp.
Publication Date: January 2009
* Individual store prices may vary.
Not Currently Available for Direct Purchase
or
Shop Local
Enter your zip code below to purchase from an indie close to you.
Description
Much of our business thinking is shaped by delusions -- errors of logic and flawed judgments that distort our understanding of the real reasons for a company's performance. In a brilliant and unconventional book, Phil Rosenzweig unmasks the delusions that are commonly found in the corporate world. These delusions affect the business press and academic research, as well as many bestselling books that promise to reveal the secrets of success or the path to greatness. Such books claim to be based on rigorous thinking, but operate mainly at the level of storytelling. They provide comfort and inspiration, but deceive managers about the true nature of business success.



The most pervasive delusion is the Halo Effect. When a company's sales and profits are up, people often conclude that it has a brilliant strategy, a visionary leader, capable employees, and a superb corporate culture. When performance falters, they conclude that the strategy was wrong, the leader became arrogant, the people were complacent, and the culture was stagnant. In fact, little may have changed -- company performance creates a Halo that shapes the way we perceive strategy, leadership, people, culture, and more.



Drawing on examples from leading companies including Cisco Systems, IBM, Nokia, and ABB, Rosenzweig shows how the Halo Effect is widespread, undermining the usefulness of business bestsellers from In Search of Excellence to Built to Last and Good to Great.



Rosenzweig identifies nine popular business delusions. Among them:



The Delusion of Absolute Performance: Company performance is relative to competition, not absolute, which is why following a formula can never guarantee results. Success comes from doing things better than rivals, which means that managers have to take risks.




The Delusion of Rigorous Research: Many bestselling authors praise themselves for the vast amount of data they have gathered, but forget that if the data aren't valid, it doesn't matter how much was gathered or how sophisticated the research methods appear to be. They trick the reader by substituting sizzle for substance.




The Delusion of Single Explanations: Many studies show that a particular factor, such as corporate culture or social responsibility or customer focus, leads to improved performance. But since many of these factors are highly correlated, the effect of each one is usually less than suggested.


In what promises to be a landmark book,
The Halo Effect
replaces mistaken thinking with a sharper understanding of what drives business success and failure.
The Halo Effect
is a guide for the thinking manager, a way to detect errors in business research and to reach a clearer understanding of what drives business success and failure.
Skeptical, brilliant, iconoclastic, and mercifully free of business jargon, Rosenzweig's book is nevertheless dead serious, making his arguments about important issues in an unsparing and direct way that will appeal to a broad business audience. For managers who want to separate fact from fiction in the world of business,
The Halo Effect
is essential reading -- witty, often funny, and sharply argued, it's an antidote to so much of the conventional thinking that clutters business bookshelves.
About the Author
Phil Rosenzweig is professor at IMD in Lausanne, Switzerland, where he works with leading companies on questions of strategy and organization. He is a native of Northern California, where he worked for Hewlett-Packard. Prior to IMD, he was an assistant professor at Harvard Business School. Rosenzweig s PhD is from the Wharton School, the University of Pennsylvania. He is the author of numerous articles in journals including Harvard Business Review, California Management Review, Management Science, and Strategic Management Journal. His 2007 book, The Halo Effect . . . and the Eight Other Business Delusions that Deceive Managers, was described by the Wall Street Journal as a trenchant view of business and business advice and lauded by Nassim Nicholas Taleb as one of the most important management books of all time.
Praise For The Halo Effect…
"I was taken by this book. It destroys myths concerning the attribution of success in the management literature using potent empirical arguments. It should stand as one of the most important management books of all time, and an antidote to those bestselling books by gurus presenting false patter and naive arguments." -- Nassim Nicholas Taleb, author of Fooled by Randomness: The Hidden Role of Chance in Life and in the Markets

"In The Halo Effect, Phil Rosenzweig has done us all a great service by speaking the unspeakable. His iconoclastic analysis is a very welcome antidote to the kind of superficial, formulaic, and dumbed-down matter that seems to be the current stock in trade of many popular business books. It's the right book at the right time." -- John R. Kimberly, Henry Bower Professor of Entrepreneurial Studies, The Wharton School, University of Pennsylvania

"Business books all too rarely combine real-world savvy with scientific rigor. Rosenzweig's book is an outstanding exception -- it's a superb work and long overdue." -- Philip E. Tetlock, Lorraine Tyson Mitchell II Chair in Leadership and Communication, Haas School of Business, University of California, Berkeley

"Rosenzweig doesn't only poke fun at the mass of bad writing and bad science in the management world. He explains why it is so bad -- and how you can learn from it, despite the efforts of the authors." -- John Kay, Financial Times columnist and author of Everlasting Light Bulbs: How Economics Illuminates the World