You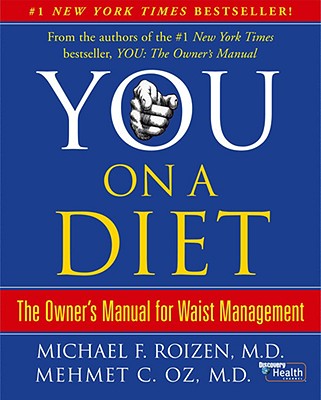 You
On A Diet: The Owner's Manual for Waist Management
Free Press, Hardcover, 9780743292542, 384pp.
Publication Date: October 31, 2006
* Individual store prices may vary.
Buy at Local Store
Enter your zip code below to purchase from an indie close to you.
or
Not Currently Available for Direct Purchase
Description
For the first time in our history, scientists are uncovering astounding medical evidence about dieting -- and why so many of us struggle with our weight and the size of our waists. Now researchers are unraveling biological secrets about such things as why you crave chocolate or gorge at buffets or store so much fat.
Michael Roizen and Mehmet Oz, America's most trusted doctor team and authors of the bestselling YOU series, are now translating this cutting-edge information to help you shave inches off your waist. They're going to do it by giving you the best weapon against fat: knowledge. By understanding how your body's fat-storing and fat-burning systems work, you're going to learn how to crack the code on true and lifelong waist management.
Roizen and Oz will invigorate you with equal parts information, motivation, and change-your-life action to show you how your brain, stomach, hormones, muscles, heart, genetics, and stress levels all interact biologically to determine if your body is the size of a baseball bat or of a baseball stadium. In YOU: On a Diet, Roizen and Oz will redefine what a healthy figure is, then take you through an under-theskin tour of the organs that influence your body's size and its health. You'll even be convinced that the key number to fixate on is not your weight, but your waist size, which best indicates the medical risks of storing too much fat.
Because the world has almost as many diet plans as it has e-mail spammers, you'd think that just about all of us would know everything there is to know about dieting, about fat, and about the reasons why our bellies have grown so large. YOU: On a Diet is much more than a diet plan or a series of instructions and guidelines or a faddish berries-only eating plan. It's a complete manual for waist management. It will show you how to achieve and maintain an ideal and healthy body size by providing a lexicon according to which any weight-loss system can be explained. YOU: On a Diet will serve as the operating system that facilitates future evolution in our dieting software. After you learn about the biology of your body and the biology and psychology of fat, you'll be given the YOU Diet and YOU Workout. Both are easy to learn, follow, and maintain. Following a two-week rebooting program will help you lose up to two inches from your waist right from the start.
With Roizen and Oz's signature accessibility, wit, and humor, YOU: On a Diet -- The Owner's Manual for Waist Management will revolutionize the way you think about yourself and the food you consume, so that you'll diet smart, not hard. Welcome to your body on a diet.
About the Author
Dr. Oz, host of ?The Dr. Oz Show,? is Vice-Chair and Professor of Surgery at Columbia University. He directs the Cardiovascular Institute and Complementary Medicine Program at New York Presbyterian Hospital. His research interests include heart replacement surgery, minimally invasive cardiac surgery, complementary medicine and health care policy. He has authored over 400 original publications, book chapters, and medical books and has received several patents. He performs 250 heart operations annually.
Dr. Oz was born in Cleveland, Ohio and received his undergraduate degree from Harvard University (1982) and obtained a joint MD and MBA (1986) from the University of Pennsylvania School of Medicine and Wharton Business School. He was awarded the Captain's Athletic Award for leadership in college and was Class President followed by President of the Student Body during medical school. He lives in Northern New Jersey with his wife Lisa of 23 years and their four children, Daphne, Arabella, Zoe, and Oliver.
Previously, Dr. Oz was a featured health expert on ?The Oprah Winfrey Show? for over five seasons, spanning 55 episodes. He has also served as chief medical consultant to Discovery Communications, where his ?Transplant!? series won both a Freddie and a Silver Telly award. In addition to numerous appearances on ?Good Morning America,? he has also appeared on the ?Today? show, ?Larry King Live,? ?The View,? guest-hosted the ?Charlie Rose? show and appeared on all the evening news broadcasts. He also served as medical director of Denzel Washington's ?John Q? and participated in several other feature films.
Dr. Oz authored five New York Times Best Sellers including ?You: The Owner's Manual?, ?You: The Smart Patient?, ?YOU: On a Diet?, ?YOU: Staying Young?, ?YOU: Being Beautiful? as well as the award winning ?Healing from the Heart?. His new book, YOU: Having a Baby, will be published by Free Press on December 1, 2009. He has a regular column in Esquire magazine and O, The Oprah Magazine and his article ?Retool, Reboot, and Rebuild? was awarded the 2009 National Magazine Award for Personal Service. Dr. Oz is also the host of a daily talk show on Sirius XM Radio's ?Oprah Radio? on XM Channel 156 and Sirius Channel 195 (as part of its ?Best of XM? package).
In addition to belonging to every major professional society for heart surgeons, Dr. Oz has been honored as one of Time magazine's 100 Most Influential People (08), Esquire magazine's 75 Most Influential People of the 21st Century, a Global Leader of Tomorrow by the World Economic Forum (99-04), and ?The Harvard 100 Most Influential Alumni? in the 02138 magazine, as well as receiving the Ellis Island Medal of Honor (08). He won the prestigious Gross Surgical Research Scholarship, and has received an honorary doctorate from Istanbul University, He was voted "The Best and Brightest" by Esquire Magazine, a ?Doctor of the Year? by Hippocrates magazine and ?Healer of the Millennium? by Healthy Living magazine. Dr. Oz is annually elected as a highest quality physician by the Castle Connolly Guide as well as other major ranking groups.