206 Bones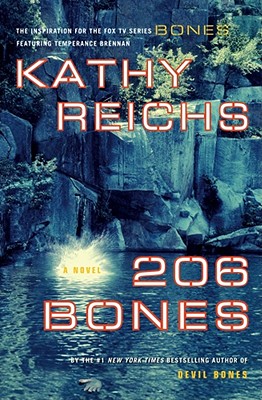 206 Bones
Scribner, Hardcover, 9780743294393, 320pp.
Publication Date: August 25, 2009
* Individual store prices may vary.
Buy at Local Store
Enter your zip code below to purchase from an indie close to you.
or
Not Currently Available for Direct Purchase
Description
The #1 New York Times bestselling author and producer of the Fox television hit, Bones, returns with a spectacular new Tempe Brennan novel.
There are 206 bones in the human body. Forensic anthropologists know them intimately, can read in them stories of brief or long lives and use them to reconstruct every kind of violent end. 206 Bones opens with Tempe regaining consciousness and discovering that she is in some kind of very small, very dark, very cold enclosed space. She is bound, hands to feet. Who wants Tempe dead, or at least out of the way, and why? Tempe begins slowly to reconstruct...
Tempe and Lieutenant Ryan had accompanied the recently discovered remains of a missing heiress from Montreal to the Chicago morgue. Suddenly, Tempe was accused of mishandling the autopsy -- and the case. Someone made an incriminating phone call. Within hours, the one man with information about the call was dead. Back in Montreal, the corpse of a second elderly woman was found in the woods, and then a third.
Seamlessly weaving between Tempe's present-tense terror as she's held captive and her memory of the cases of these murdered women, Reichs conveys the incredible devastation that would occur if a forensic colleague sabotaged work in the lab. The chemistry between Tempe and Ryan intensifies as this complex, riveting tale unfolds. Reichs is writing at the top of her game.
Unabridged Compact Disk Includes a Bonus MP3 CD of Kathy Reichs' Deja Dead
About the Author
Kathy Reichs, like her character Temperance Brennan, is a forensic anthropologist, formerly for the Office of the Chief Medical Examiner in North Carolina and currently for the Laboratoire de sciences judiciaires et de mÉdecine lÉgale for the province of Quebec. A professor in the department of anthropology at the University of North Carolina at Charlotte, she is one of only seventy-nine forensic anthropologists ever certified by the American Board of Forensic Anthropology, is past Vice President of the American Academy of Forensic Sciences, and serves on the National Police Services Advisory Board in Canada. Reichs's first book, DÉja Dead, catapulted her to fame when it became a New York Times bestseller and won the 1997 Ellis Award for Best First Novel. Her novel, Devil Bones, was a #1 New York Times bestseller.