Sundown Towns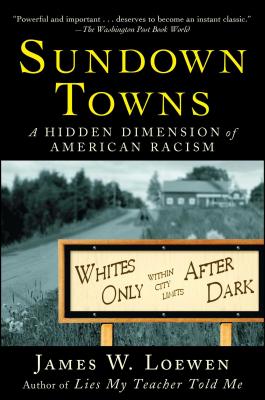 Sundown Towns
A Hidden Dimension of American Racism
Touchstone Books, Paperback, 9780743294485, 562pp.
Publication Date: October 2006
* Individual store prices may vary.
Shop Local
Enter your zip code below to find indies closest to you.
Description
Bestselling author of "Lies My Teacher Told Me," James W. Loewen, exposes the secret communities and hotbeds of racial injustice that sprung up throughout the twentieth century unnoticed, forcing us to reexamine race relations in the United States.
In this groundbreaking work, bestselling sociologist James W. Loewen, author of the national bestseller "Lies My Teacher Told Me," brings to light decades of hidden racial exclusion in America. In a provocative, sweeping analysis of American residential patterns, Loewen uncovers the thousands of "sundown towns"--almost exclusively white towns where it was an unspoken rule that blacks could not live there--that cropped up throughout the twentieth century, most of them located outside of the South. These towns used everything from legal formalities to violence to create homogenous Caucasian communities--and their existence has gone unexamined until now. For the first time, Loewen takes a long, hard look at the history, sociology, and continued existence of these towns, contributing an essential new chapter to the study of American race relations.
"Sundown Towns" combines personal narrative, history, and analysis to create a readable picture of this previously unknown American institution all written with Loewen's trademark honesty and thoroughness.
About the Author
Sociologist James W. Loewen, Washington, D.C., is the best-selling author of "Lies My Teacher Told Me: Everything Your American History Textbook Got Wrong" and "Lies Across America: What Our Historic Sites Get Wrong". He is also the author of "Teaching What Really Happened: How to Avoid the Tyranny of Textbooks"; "Sundown Towns: A Hidden Dimension of American Racism"; "Social Science in the Classroom"; and "Mississippi: Conflict and Change". He is professor emeritus at the University of Vermont.
Praise For Sundown Towns…
"As the first comprehensive history of sundown towns ever written, this book is sure to become a landmark in several fields."
-- Publishers Weekly (starred review)

"Just when you thought you'd learned everything there was to know about the sordid history of racism in the United States and its lingering impact on the nation, along comes this amazing volume, which reminds us all of just how deep the well of racial exclusion and white supremacy runs."
-- Tim Wise, author of White Like Me: Reflections on Race from a Privileged Son

"Powerful and important...deserves to become an instant classic."
-- The Washington Post Book World