If Your Back's Not Bent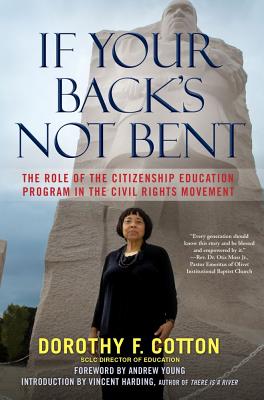 If Your Back's Not Bent
The Role of the Citizenship Education Program in the Civil Rights Movement
Atria Books, Hardcover, 9780743296830, 352pp.
Publication Date: September 4, 2012
* Individual store prices may vary.
Buy at Local Store
Enter your zip code below to purchase from an indie close to you.
or
Not Currently Available for Direct Purchase
Description
The only female in Martin Luther King, Jr.'s inner circle of leadership, for the first time, offers her account of the Civil Rights Movement and what it means to us now.
"Nobody can ride your back if your back's not bent," Dr. Martin Luther King Jr. said at the end of a Citizenship Education Program (CEP), an adult grassroots training program directed by Dorothy Cotton. This program, called the best-kept secret of the twentieth century's civil rights movement, was critical in preparing legions of disenfranchised people across the South to work with existing systems of local government to gain access to services and resources they were entitled to as citizens. They learned to demonstrate peacefully against injustice, even when they were met with violence and hatred. The CEP was born out of the work of the Tennessee Highlander Folk School and was fully developed and expanded by the Southern Christian Leadership Conference led by Dr. King until that fateful day in Memphis in April 1968. Cotton was checked into the Lorraine Motel at that time as well, but she'd left to do the work of the CEP before the assassin's bullet was fired.
If Your Back's Not Bent recounts the accomplishments and the drama of this training that was largely ignored by the media, which had focused its attention on marches and demonstrations. This book describes who participated and how they were transformed--men and women alike--from victims to active citizens, and how they transformed their communities and ultimately the country into a place of greater freedom and justice for all. Cotton, the only woman in Dr. King's inner circle of leadership, for the first time offers her account of the movement, correcting the historical impression that "we only marched and sang." She shows how the CEP was key to the movement's success, and how the lessons of the program can serve our democracy now. People, and therefore systems, can indeed change "if your back's not bent.
About the Author
Dorothy Cotton, a lifelong activist and visionary dedicated to social justice. She lives in Ithaca, New York, where the Dorothy Cotton Institute of Cornell University was recently launched as a tribute to her legacy.
Praise For If Your Back's Not Bent…
"Dorothy Cotton is an inspiration to so many male and female leaders in the modern civil rights movement. Her time at the helm of the Citizenship Education Program remains a textbook example of successful grassroots organizing. We should all pay close attention to her story." –Ben Jealous, NAACP President and CEO



The Citizenship Program of SCLC is the best kept secret of the Civil Rights Movement. Dortothy Cotton was the engine that made it move to become a crucial part of the movement. It produced Fannie Lou Hamer and dozens like her and empowered them all across the deep South to produce an authentic grass roots revolution.
This book tells the story that most chroniclers have missed because of their penchant for sensationalism and not actual historical facts that can be supported by intentional research.
Hundreds were trained at the Dorchester Center in south Georgia which made them the backbone of the Civil Rights Movement.
Though unheralded, Dorothy Cotton was as crucial to the Movement as was King, Abernathy and Shuttlesworth in her dogged preparation of the "troops."
—Rev. Dr. Wyatt Tee Walker, Pastor Emeritus of Harlem's Canaan Baptist Church of Christ



Dorothy Cotton has given us the story of the heart and lungs of the Freedom Struggle led by Dr. Martin Luther King, Jr. Millions in the present generation do not know that the Freedom Struggle had a life-long learning curriculum. Dorothy was the director of this academy—the Citizenship Education Program which had hundreds of graduates. One of the most famous and honored graduates of the above program was Mrs. Fannie Lou Hamer from Ruleville, Mississippi. She was both pupil and prophet who then went on to change the world in her time and space. Every generation should know this story and be blessed and empowered by it.
—Rev. Dr. Otis Moss, Jr., Pastor Emeritus of Olivet Institutional Baptist Church



"Dorothy F. Cotton's book, If Your Back's Not Bent, is a distinct reminder that women have been endlessly omitted from the written histories of civil rights movements. Moreover, Ms. Cotton pays tribute to numerous, unfamed, brave people whose work supported the great leaders, such as Dr. Martin Luther King...and, collectively, they shared a collective quest to end the denial of human rights." – Camille Cosby


"If Your Back's Not Bent is more than the compelling story of a motherless child who grew up in a shotgun shack on an unpaved road in Goldsboro, N.C. to become the lone female in Dr. Martin Luther King's inner leadership circle. It's the story of how people such as Dorothy Cotton and those she trained became what the civil rights movement needed them to be. Cotton's Citizenship Education program taught ordinary people how to interpret the Constitution, set goals, run meetings, plan marches, practice nonviolence and—most importantly--realize they could change both themselves and America."
—Betty DeRamus, author of Forbidden Fruit: Love Stories from the Underground Railroad and Freedom by Any Means



"Dorothy Cotton's superb book, with its vision of the Beloved Community, is a vivid reminder that the 1960s civil rights Movement was one brilliant moment in the long American journey to democracy. Read it, be inspired, and act."
—Joan Steinau Lester, award-winning author of Black, White, Other



"This history of the Civil Rights Movement would not be complete without the experiences and insights of Dorothy F. Cotton, who provides a much-needed female perspective on life on the front lines with Martin Luther King. Jr. Her lessons on citizenship and shedding notions of "victimhood" resound with relevance today, giving us a vibrant blueprint for the future."
—Tananarive Due, American Book Award winner, co-author of Freedom in the Family: A Mother-Daughter Memoir of the Fight for Civil Rights