Tinker, Tailor, Soldier, Spy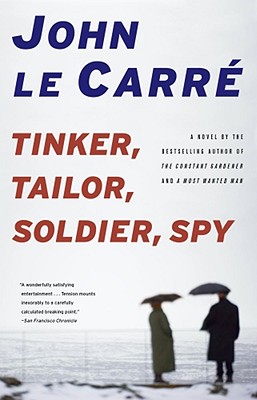 Tinker, Tailor, Soldier, Spy
Scribner, Paperback, 9780743457903, 400pp.
Publication Date: October 1, 2002
* Individual store prices may vary.
Not Currently Available for Direct Purchase
or
Shop Local
Enter your zip code below to purchase from an indie close to you.
Description
John le Carré's classic novels deftly navigate readers through the intricate shadow worlds of international espionage with unsurpassed skill and knowledge and have earned him -- and his hero, British Secret Service agent George Smiley -- unprecedented worldwide acclaim.
A modern masterpiece in which le Carré expertly creates a total vision of a secret world, Tinker, Tailor, Soldier, Spy begins George Smiley's chess match of wills and wits with Karla, his Soviet counterpart.
It is now beyond doubt that a mole, implanted decades ago by Moscow Centre, has burrowed his way into the highest echelons of British Intelligence. His treachery has already blown some of its most vital operations and its best networks. It is clear that the double agent is one of its own kind. But which one? George Smiley is assigned to identify him. And once identified, the traitor must be destroyed.
About the Author
John le CarrÉ was born in 1931. His third novel, The Spy Who Came in From the Cold, secured him a worldwide reputation, which was consolidated by the acclaim for his trilogy: Tinker, Tailor, Soldier, Spy; The Honorable Schoolboy, and Smiley's People. His novels include The Little Drummer Girl, A Perfect Spy, The Russia House, Our Game, The Taileor of Panama, and Single & Single. John le CarrÉ lives in Cornwall.
Friday, Jul 23, 2010
Author and law professor Stephen Carter started reading the novels of John le Carre in college and he hasn't stopped. After all these years, he says his favorite is still Tinker, Tailor, Soldier, Spy, a Cold War spy story that demonstrates le Carre's marvelous craftsmanship. More at NPR.org