Past Perfect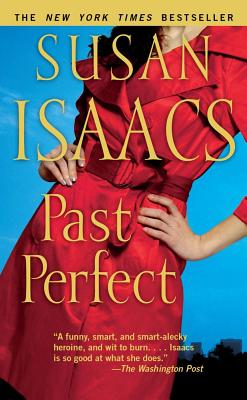 Past Perfect
Pocket Star Books, Mass Market Paperbound, 9780743463140, 406pp.
Publication Date: April 28, 2009
* Individual store prices may vary.
Not Currently Available for Direct Purchase
or
Shop Local
Enter your zip code below to purchase from an indie close to you.
Description
In "Past Perfect, " Susan Isaacs gives us one of her most glorious characters ever: bright, buoyant, and borderline luscious Katie Schottland. Katie seems to have the ideal life: a great husband, a precocious and winning ten-year-old son, and a dream job -- writer for the long-running TV series "Spy Guys." But all is not as splendid as it should be because writing about the espionage business isn't nearly as satisfying as working in it.
Fifteen years earlier, Katie was in the CIA. She loved her job (to say nothing of her boss, the mysterious Benton Mattingly). Yet just as she was sensing she was in line for a promotion, she was fired -- escorted off the premises by two extremely hulking security types. Why? No one would tell her: when you're expelled from the Agency, warm friends immediately become icy ex-colleagues who won't risk their security clearances by talking to you.
Until that day, Katie was where she wanted to be. Coming from a family of Manhattan superachievers, she too had a job she not only adored but a job that made her, in the family tradition, a Someone. Fifteen years later, Katie is still stuck on her firing. Was she set up? Or did she make some terrible mistake that cost lives? She believes that if she could discover why they threw her out, she might be at peace.
On the day she's rushing to get her son off to summer camp, Katie gets a surprise call from former Agency colleague Lisa Golding. "A matter of national importance," says Lisa, who promises to reveal the truth about the firing -- "if" Katie will help her. Lisa was never very good at truth-telling, though she swears she's changed her ways. Katie agrees to speak with her, but before she can, Lisa vanishes.
Maturity and common sense should keep Katie in the bright, normal world of her present life, away from the dark intrigues of the past. But she needs to know. As she takes just a few steps to find out, one ex-spy who might have the answers dies under suspicious circumstances. Another former agent is murdered. Could it be there's a list? If so, is Katie now on it? And who will be the next to go?
About the Author
Susan Isaacs is the bestselling author of eleven novels, two screenplays, and one work of nonfiction. She lives on Long Island.
Praise For Past Perfect…
"Susan Isaacs has an incredibly good ear for dialogue and a very sharp eye for the silly and stupid things people really do. Picture yourself laughing out loud while sitting on the edge of your seat and furiously flipping pages. The clever plot, the quick pace, and the pitch-perfect writing are good clues that Past Perfect was written by a master storyteller."
-- Nelson DeMille, author of Wild Fire



"There has to be a name for the literary form Susan Isaacs has invented: the funny scary book. The woman who made us laugh as well as shiver in fear over a murder investigation in Compromising Positions has done the same thing for the CIA and international espionage. Past Perfect made me laugh, but it also kept me jumping out of bed every time a floorboard creaked in my old house."
-- Sara Paretsky, author of Fire Sale



"I love Susan Isaacs! Her books come straight from the heart, and her characters are smart, funny, and feisty enough to be your best girlfriend -- not only for three hundred pages, but for life. Past Perfect introduces Katie Schottland -- a terrific galpal who packs her kid off to summer camp and sleuths as a CIA analyst with equal style. Put simply, Past Perfect is perfect!"
-- Lisa Scottoline, author of Dirty Blonde