Hamlet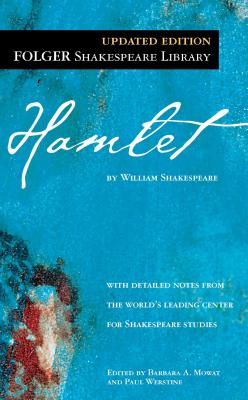 Hamlet
Washington Square Press, Mass Market Paperbound, 9780743477123, 400pp.
Publication Date: July 2003
* Individual store prices may vary.
Shop Local
Enter your zip code below to find indies closest to you.
Description
The Folger Library offers the definitive, updated edition of "Hamlet," with newly edited text, explanatory notes, scene summaries, and more.
"Hamlet" is Shakespeare's most popular, and most puzzling, play. It follows the form of a "revenge tragedy," in which the hero, Hamlet, seeks vengeance against his father's murderer, his uncle Claudius, now the king of Denmark. Much of its fascination, however, lies in its uncertainties.
Among them: What is the Ghost--Hamlet's father demanding justice, a tempting demon, an angelic messenger? Does Hamlet go mad, or merely pretend to? Once he is sure that Claudius is a murderer, why does he not act? Was his mother, Gertrude, unfaithful to her husband or complicit in his murder?
The authoritative edition of "Hamlet "from The Folger Shakespeare Library, the trusted and widely used Shakespeare series for students and general readers, is now available as an eBook. Features include:
- The exact text of the printed book for easy cross-reference
- Hundreds of hypertext links for instant navigation
- Freshly edited text based on the best early printed version of the play
- Full explanatory notes conveniently placed on pages facing the text of the play
- Scene-by-scene plot summaries
- A key to famous lines and phrases
- An introduction to reading Shakespeare's language
- Illustrations from the Folger Shakespeare Library's vast holdings of rare books
- An essay by a leading Shakespeare scholar providing a modern perspective on the play.
About the Author
Keith Hale is author of the novels Clicking Beat on the Brink of Nada and Letters to a Shooting Star. He has edited an anthology of gay literature from antiquity through the First World War (Ode to Boy), a collection of Lord Byron's love poetry for boys (Edleston), a collection of Rupert Brooke's letters that had been sealed for eighty years due to their homosexual themes (Friends and Apostles), a collection of Georgian Poetry, and editions of poetry by Shakespeare, Housman, and Brooke. Hale wrote the first and perhaps only account of gay life in the Balkans before the walls of Communism crumbled in his travelogue In the Land of Alexander, and he explored how the military's ban on gays affected the life of one ROTC cadet in his book Torn Allegiances. Hale is a native of Mayflower, Arkansas, and also has made his home in Austin, Amsterdam, and Guam.

Mowat, Director of Academic Programs Folger Shakespeare Library.

William Shakespeare was born in April 1564 in the town of Stratford-upon-Avon, on England's Avon River. When he was eighteen, he married Anne Hathaway. The couple had three children--their older daughter Susanna and the twins, Judith and Hamnet. Hamnet, Shakespeare's only son, died in childhood. The bulk of Shakespeare's working life was spent, not in Stratford, but in the theater world of London, where he established himself professionally by the early 1590s. He enjoyed success not only as a playwright, but as an actor and shareholder in an acting company. Sometime between 1610 and 1613, Shakespeare is thought to have retired from the stage and returned home to Stratford, where he died in 1616.