Twelfth Night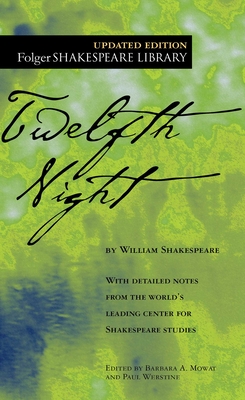 Twelfth Night
Or What You Will
Washington Square Press, Mass Market Paperbound, 9780743482776, 222pp.
Publication Date: July 1, 2004
* Individual store prices may vary.
Buy Now
or
Shop Local
Enter your zip code below to purchase from an indie close to you.
Description
Named for the twelfth night after Christmas, the end of the Christmas season, "Twelfth Night" plays with love and power. The Countess Olivia, a woman with her own household, attracts Duke (or Count) Orsino. Two other would-be suitors are her pretentious steward, Malvolio, and Sir Andrew Aguecheek.
Onto this scene arrive the twins Viola and Sebastian; caught in a shipwreck, each thinks the other has drowned. Viola disguises herself as a male page and enters Orsino's service. Orsino sends her as his envoy to Olivia only to have Olivia fall in love with the messenger. The play complicates, then wonderfully untangles, these relationships.
The authoritative edition of "Twelfth Night" from The Folger Shakespeare Library, the trusted and widely used Shakespeare series for students and general readers, includes:
-Freshly edited text based on the best early printed version of the play
-Full explanatory notes conveniently placed on pages facing the text of the play
-Scene-by-scene plot summaries
-A key to the play's famous lines and phrases
-An introduction to reading Shakespeare's language
-An essay by a leading Shakespeare scholar providing a modern perspective on the play
-Fresh images from the Folger Shakespeare Library's vast holdings of rare books
-An annotated guide to further reading
Essay by Catherine Belsey
The Folger Shakespeare Library in Washington, DC, is home to the world's largest collection of Shakespeare's printed works, and a magnet for Shakespeare scholars from around the globe. In addition to exhibitions open to the public throughout the year, the Folger offers a full calendar of performances and programs. For more information, visit Folger.edu.
About the Author
Arguably the greatest English-language playwright, William Shakespeare was a seventeenth-century writer and dramatist, and is known as the Bard of Avon. Under the patronage of Queen Elizabeth I, he penned more than 30 plays, 154 sonnets, and numerous narrative poems and short verses. Equally accomplished in histories, tragedies, comedy, and romance, Shakespeare s most famous works include Romeo and Juliet, Hamlet, Macbeth, King Lear, The Taming of the Shrew, and As You Like It.
Like many of his contemporaries, including Christopher Marlowe, Shakespeare began his career on the stage, eventually rising to become part-owner of Lord Chamberlain s Men, a popular dramatic company of his day, and of the storied Globe Theatre in London.
Extremely popular in his lifetime, Shakespeare s works continue to resonate more than three hundred years after his death. His plays are performed more often than any other playwright s, have been translated into every major language in the world, and are studied widely by scholars and students.
Mowat, Director of Academic Programs Folger Shakespeare Library.
Paul Werstine has spent his career teaching Shakespeare and Medieval and Renaissance English Literature at King's University College and in the Graduate Program of the University of Western Ontario. Among his teaching awards are the King's College Award for Excellence in Teaching, 2003 and awards from the graduating classes of 2003, 2007 and 2009. From 1981 9 he served as Associate Editor, with Editor Leeds Barroll, of Medieval and Renaissance Drama in England. He is co-editor, with Barbara A. Mowat, of the Folger Shakespeare Library edition of Shakespeare's plays and poems. He is also co-general editor, with Richard Knowles, of the Modern Language Association's New Variorum Shakespeare edition and particularly of The Winter's Tale (2005) and The Comedy of Errors (2011). He has written many articles about the early printings of Shakespeare, about the Shakespeare editorial tradition and about early modern dramatic manuscripts. In 2010 he was elected a Fellow of the Royal Society of Canada.