A Farewell to Arms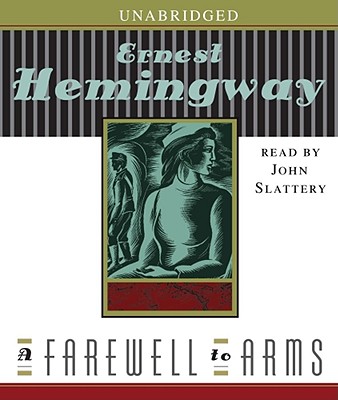 A Farewell to Arms
Simon & Schuster Audio, Compact Disc, 9780743564373, 8pp.
Publication Date: May 1, 2006
* Individual store prices may vary.
Buy at Local Store
Enter your zip code below to purchase from an indie close to you.
or
Buy Here
Description
Hemingway's classic novel of the First World War
The best American novel to emerge from World War I, " A Farewell to Arms" is the unforgettable story of an American ambulance driver on the Italian front and his passion for a beautiful English nurse. Hemingway's frank portrayal of the love between Lieutenant Henry and Catherine Barkley, caught in the inexorable sweep of war, glows with an intensity unrivaled in modern literature, while his description of the German attack on Caporetto -- of lines of fired men marching in the rain, hungry, weary, and demoralized -- is one of the greatest moments in literary history. A story of love and pain, of loyalty and desertion, " A Farewell to Arms, " written when he was 30 years old, represents a new romanticism for Hemingway.
Ernest Hemingway did more to change the style of English prose than any other writer in the twentieth century, and for his efforts he was awarded the Nobel Prize for literature in 1954. Hemingway wrote in short, declarative sentences and was known for his tough, terse prose. Publication of "The Sun Also Rises" and" A Farewell to Arms" immediately established Ernest Hemingway as one of the greatest literary lights of the twentieth century. As part of the expatriate community in 1920s Paris, the former journalist and World War I ambulance driver began a career that lead to international fame. Hemingway was an aficionado of bullfighting and big-game hunting, and his main protagonists were always men and women of courage and conviction, who suffered unseen scars, both physical and emotional. He covered the Spanish Civil War, portraying it in fiction in his brilliant novel" For Whom the Bell Tolls, " and he subsequently covered World War II. His classic novella "The Old Man and the Sea" won the Pulitzer Prize in 1953. He died in 1961.
About the Author
Ernest Hemingway was one of America s foremost journalists and authors. A winner of both the Pulitzer Prize (1953) and the Nobel Prize for Literature (1954), Hemingway is widely credited with driving a fundamental shift in prose writing in the early twentieth century. As an American expatriate in Paris in the 1920s, Ernest Hemingway achieved international fame with such literary works as The Sun Also Rises, The Old Man and the Sea, and For Whom the Bell Tolls, which depicts his experience as a correspondent during the Spanish Civil War. Hemingway died in 1961, leaving behind a rich literary legacy.

John Slattery, a second generation confectioner, is a well-known chocolatier who runs a thriving patisserie and wedding cake business. John has won multiple awards for his work, including the prestigious "Confectioner and Chocolatier of the Year" award.