The Story of Stuff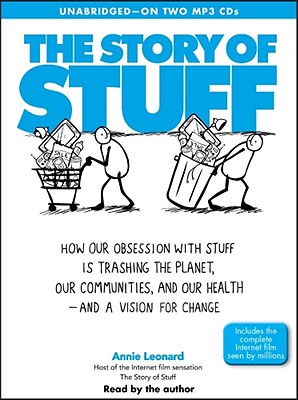 The Story of Stuff
How Our Obsession with Stuff is Trashing the Planet, Our Communities, and Our Health-and a Vision for Change
Simon & Schuster Audio, MP3 CD, 9780743599153
Publication Date: March 9, 2010
* Individual store prices may vary.
Buy at Local Store
Enter your zip code below to purchase from an indie close to you.
or
Not Currently Available for Direct Purchase
Description
The unabridged audiobook on only two MP3 CDs!
We have a problem with Stuff. With just 5 percent of the world's population, we're consuming 30 percent of the world's resources and creating 30 percent of the world's waste. If everyone consumed at U.S. rates, we would need three to five planets! This alarming fact drove Annie Leonard to create the Internet film sensation The Story of Stuff, which has been viewed over 10 million times. Now, in a landmark book in the tradition of Rachel Carson's Silent Spring, Leonard tracks the life of the Stuff we use every day—how it is produced, distributed, and consumed, and where it goes when we throw it out.
Leonard's message is startlingly clear: we have too much Stuff, and too much of it is toxic. Outlining the five stages of our consumption-driven economy—from extraction through production, distribution, consumption, and disposal—she vividly illuminates its frightening repercussions. Leonard reveals the true story behind our possessions, and how we, as consumers, are compromising our health, safety, and quality of life. Meanwhile, all this Stuff isn't even making us happier!
The drive for a "growth at all costs" economy fuels a system in crisis, but Annie Leonard shows us that this is not the way things have to be. Expansive, galvanizing, and sobering yet optimistic, The Story of Stuff transforms how we think about our lives and our relationship to the planet.
This MP3 CD edition will not play on traditional CD players, but is perfect for transferring to iPods and other portable MP3 players. It will also play on your computer or MP3 CD player.
About the Author
Annie Leonard is an expert in international sustainability and environmental health issues, with more than 20 years of experience investigating factories and dumps around the world. She's taking time off from her other work to write the book, but until recently she was coordinator of the Funders Workgroup for Sustainable Production and Consumption, communicating worldwide about the impact of consumerism and materialism on global economies and international health. Annie's efforts over the past two decades to raise awareness about international sustainability and environmental health issues has included work with Global Anti-Incinerator Alliance (GAIA), Health Care without Harm, Essential Information and Greenpeace International. She serves on the boards of GAIA, the International Forum for Globalization and the Environmental Health Fund.
Annie has written about international environmental issues for a range of public interest audiences and will step this up and broaden her reach with op eds and features around publication time. She's appeared on radio and TV in the U.S. and other countries many times over the past 20 years. She had extensive media training and exposure during her tenure at Greenpeace. She's testified in front of Congress, been interviewed on CNN, publicly debated a US State Department representative, and done hundreds of public presentations. In 2008, Annie was named one of Time magazine's Heroes of the Environment.
Annie did her undergraduate studies at Barnard and graduate work in city and regional planning at Cornell. She has traveled to 40 countries, including Haiti, Bangladesh, India, the Philippines, Pakistan and South Africa, in her work investigating and promoting anti-pollution issues internationally. Annie currently resides in California with her daughter.