The Victorians and Edwardians at Work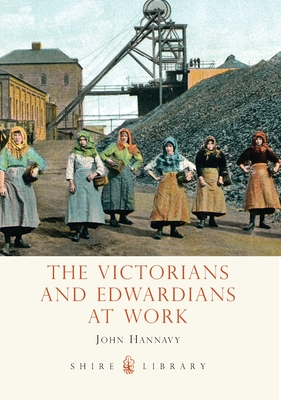 The Victorians and Edwardians at Work
Shire Publications, Paperback, 9780747807193, 128pp.
Publication Date: July 21, 2009
* Individual store prices may vary.
Not Currently Available for Direct Purchase
or
Shop Local
Enter your zip code below to purchase from an indie close to you.
Description
A picture can say a thousand words and the images caught on camera during the Victorian and Edwardian periods provide a fascinating insight into the lives of Britons during this time. Take a step back between 1840 and 1910 and explore the world of work and working conditions experienced by the Victorians and Edwardians through the rich variety of photographs and vintage postcards in this beautiful album. A world we usually see in monochrome or sepia, is presented here in vivid color, bringing the Victorian and Edwardian people a little closer to us. 128 pages are packed with images of shipyards, factories, bakeries, and life in the forces. We see the men and women who made cutlery in Sheffield, the women who gutted and packed the herring in the east coast fishing ports, and the women who worked the coal screens in Lancashire's many collieries, as well as some 'tongue in cheek' Victorian images of domestic life, visiting the dentist, and many other themes and subjects, all of which tell the story of working life 100 to 160 years ago. Go on, take a look.
About the Author
Professor John Hannavy has had a long involvement with photography and photographic history, and has been writing about the subject for over thirty years. He edited the recently published Encyclopaedia of 19th Century Photography, and has previously published many books and articles on travel, history, photography, and photographic history, and has written and presented two television series.
Praise For The Victorians and Edwardians at Work…
[With Victorians and Edwardians at Play (Shire 2009)]: "If you find the Victorian and Edwardian eras even a smidgen  interesting, you simply must read these two books. They provide a  complete and fascinating look back at the people that lived in those time periods. First, in "At Work", we learn about every occupation from actors to postmen to fishwives to pit brow lasses! Each occupation has pages of details about the tasks involved as well as photos of workers fulfilling their duties. The Victorians and Edwardians worked hard, but as evidenced in "At Play", they played just as hard. They enjoyed many of the same activities we do today, such as trips to the zoo and the races, a game of golf  or hunting, roller skating and even enjoying their pint of beer. Both books have a wealth of beautifully tinted vintage photographs and more details about their lives than you could have imagined! These books are definitely "keepers" for anyone that wishes, just a tiny bit, that they were born in a simpler, earlier time. " -For Immediate Release Reviews / forimmediatereleasereviews.com (December 2009)