The 1940s Home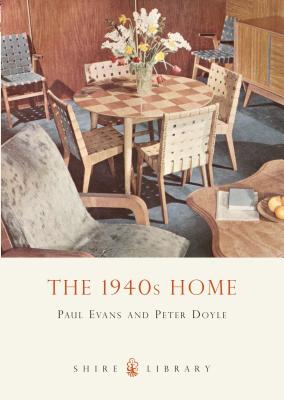 The 1940s Home
Shire Publications, Paperback, 9780747807360, 48pp.
Publication Date: October 20, 2009
* Individual store prices may vary.
Buy at Local Store
Enter your zip code below to purchase from an indie close to you.
or
Not Currently Available for Direct Purchase
Description
The history of the British home in the 1940s is dominated by the impacts Second World War. In the first five years of the decade, homes were adapted to better survive the affects of bombing. The 1930s home became the wartime home with the addition of anti-blast tape on the windows, sandbags around the door, and a Morrison shelter in the kitchen. In the garden, the lawn and shrubs gave way to vegetable plot and chicken coop. For those lucky enough to have a home left unscathed by the war the second half of the decade was likely a time of consolidation snd continued rationing. The policy of "make do and mend" continued. But for those whose houses were damaged or destroyed, or those moved out of their homes by post-war rehousing schemes, the picture was very different. For many the pre-fab became home, and new designs of furniture made under the utility scheme furnished rooms cheaply and stylishly. New estates, different from anything tried before the war, arose from the bombsites, offering state of the art sanitisation and modern facilities to thousands.
About the Author
Paul Evans teaches contemporary Asian affairs at the University of British Columbia.


Peter Doyle is internationally recognised for his teaching and research on marketing and business strategy. He is Professor of Marketing and Strategic Management at the University of Warwick Business School. Previously he has held positions at the London Business School, INSEAD, Bradford and Stanford Universities.
He is the author of numerous papers which have appeared in most of the world's top journals including the Journal of Marketing, Journal of Marketing Research, Management Science and the Economic Journal. His other recent books are Marketing Management and Strategy and Innovation in Marketing.
He has acted as a consultant to many of the most famous international companies including Coca-Cola, IBM, Nestle, Cadbury-Schweppes, British Airways, Mars, Johnson & Johnson, Unilever, Shell, BP Amoco, AstraZeneca, Novartis, 3M, Saatchi & Saatchi and Wal-Mart. He has also advised such professional bodies as Britain's Cabinet Office, The Institute of Chartered Accountants, the Institute of Directors, the CBI, the Pacific-Asian Management Institute and the Singapore Department of Trade.
Peter Doyle has run executive programmes for senior managers thorhgout Europe, the United States, South America, Australia and the Far East. He has been voted 'Outstanding Teacher' on numerous university and corporate courses. He has a First Class Honours degree from the University of Manchester and an MBA and PhD from Carnegie Mellon University, USA. His research has twice led him to tbe awarded the President's Medal of the Operational Research Society and the Best paper Award of the American Marketing Association.
Praise For The 1940s Home…
"This slender, almost pamphlet-sized book is chock-full of British modernism of the 1940s, with plenty of photographs and an erudite text... authors Paul Evans and Peter Doyle, an antiques dealer and a military historian who usually work together on Shire's books about World War II, have given this volume an informative, well-researched text that flows along with the photographs." -Sandy McLendon, Modernism Magazine

[In reference to 1930s Home, 1940s Home and 1950s Home]: "Lavishly illustrated with photographs, ephemera and wonderful period advertisements, all three of these books take one through a good overview of British architectural design, house construction, furnishings and decor, and gardens." - Kitchen Retro, kitchenretro.blogspot.com (October 2009)