Austin-Healey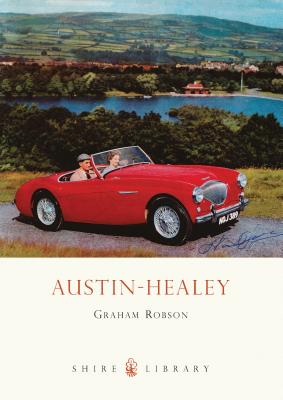 Austin-Healey
Shire Publications, Paperback, 9780747807698, 64pp.
Publication Date: March 23, 2010
* Individual store prices may vary.
Buy at Local Store
Enter your zip code below to purchase from an indie close to you.
or
Not Currently Available for Direct Purchase
Description
One of the sensations of the 1952 Motor Show was a two-seat sports car built by Donald Healey at a small factory in Warwick in the English Midlands. Before the show was over Leonard Lord, head of the British Motor Corporation (BMC) had struck a deal with Healey to mass produce the car, and the Austin-Healey was born.
This car, the 100, took both the British and US markets by storm. A beautiful, brutish car, it was what many sporting motorists had been waiting for, and its use of many standard BMC components made it relatively affordable.
In 1956 the four-cylinder engine of the 100 was replaced with the Austin C-series six-cylinder unit, creating the 100-6, and in 1959 this car was developed into the most famous Healey of them all - the 3000, that was as successful on the rally stage as it was loved on the open road.
Collectively the 100 and 3000 have become known as the Big Healeys, but as this name suggests, there was a corresponding 'small' Healey, and this car, the Sprite, was launched in Monte Carlo in 1958. Designed around the major mechanical components of the Austin A35, the Sprite set out to recreate the market for the cheap 'everyman's' sports car that hadn't existed since the 1930s. Distinguished by the headlights that protruded from the bonnet, the Sprite was soon nicknamed the Frogeye in Britain, or the Bugeye in the US. It was a big success, and remained in production until 1971, albeit in more conventionally styled form from the Mark 2 onwards.
Written by one of the foremost historians of the British motor industry, this book presents a concise history of Austin Healey, and the marque's success on road and track. Illustrated throughout, it will appeal to all lovers of this, the quintessential British sports car manufacturer.
About the Author
Graham Robson possesses a worldwide reputation as a motoring historian, and has been close to the sport of rallying for many years, as a competitor, team manager, organizer, reporter, commentator and observer; in more than forty years he has never lost touch with the sport. Not only has Graham competed in many British and European events, he's also reported on marathons in South America, and acted as a traveling controller in the legendary London-Mexico World Cup Rally. As a recognized authority on many aspects of classic cars and motoring of that period, he is the most prolific of all authors, with more than 130 published books to his credit. Over the years Graham has owned, driven, described and competed in many of the cars featured in the Rally Giants Series, and his insight to their merits is unmatched.