National Service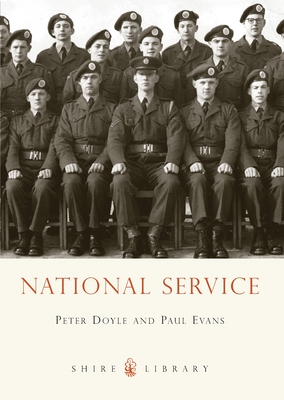 National Service
Shire Publications, Paperback, 9780747810926, 64pp.
Publication Date: May 22, 2012
* Individual store prices may vary.
Not Currently Available for Direct Purchase
or
Shop Local
Enter your zip code below to purchase from an indie close to you.
Description
Overshadowed in the public eye by the events of the Second World War - and of the impacts of recent wars at the transition of the late twentieth and early twenty-first centuries - the period of National Service is sometimes portrayed as a long-running and monumental waste of time, a period of 'bull' and 'blanco' of 'jankers' and 'whitewashing'. Yet, emerging from the harsh reality of a truly world war and into the new dawn of the Cold War, it was clear that Britain would have to face new threats from old allies, and to meet considerable overseas obligations from its vestiges of Empire. The occupation of Germany would require 100,000 troops, and Palestine Aden, Cyprus and the Suez Canal Zone, would demand a strong British military presence.
With only a limited number of men still in service, the government of the day had no option but to continue conscription. The 1948 National Service Act fixed the period of National Service to eighteen months with four years in the reserves. With involvement in a major, UN sanctioned war in 1950, the period of service was extended to two years with three and a half years in the reserves. The Korean War would be just one of many conflicts - the 'bush-fire wars' - of the 1950s and early 1960s in which National Servicemen would serve, and 400 would lose their lives. Between 1945 and 1963, 2.5 million young men were compelled to do their time in National Service - with 6,000 being called up every fortnight.
During a period of often-brutal basic training, the raw recruits would, in the main, be turned into soldiers and airmen - the navy required more specialist skills and took only a small number of men. The new servicemen would be posted to dreary bases up and down the country, subject to the mercies of iron-hard NCOs. Travelling from home, the young conscripts would be transformed within moments of arrival into uniformed rookies - still with no idea of military discipline, tradition or procedure. From all walks of life, some would prosper - others, separated from home life for the first time, would find it traumatic.
The 'call-up' finally came to a halt on 31 December 1960 and the very last National servicemen left the Army in 1963. Born from good intentions, National Service was inevitably to supply more men than the services could absorb, and would draw criticisms for its often pointless activities - criticisms that hide today the role these men had in the defence of Britain, and the post-colonial transition. The National Serviceman will explore all aspects of the life of the post-war conscripts.
About the Author
Peter Doyle

Paul Evans teaches contemporary Asian affairs at the University of British Columbia.