Touched by an Alien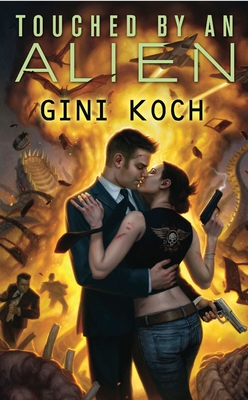 Touched by an Alien
Daw Books, Mass Market Paperbound, 9780756406004, 389pp.
Publication Date: April 6, 2010
* Individual store prices may vary.
Buy at Local Store
Enter your zip code below to purchase from an indie close to you.
or
Buy Here
Description
..".I was hooked from the first page, and felt downright resentful of dinner for making me put the book down." Tempting Persephone
Marketing manager Katherine "Kitty" Katt had just finished a day on jury duty. When she stepped out of the Pueblo Caliente courthouse, all she was thinking about was the work she had to get caught up on. Then her attention was caught by a fight between a couple that looked like it was about to turn ugly. But ugly didn't even begin to cover it when the "man" suddenly transformed into a huge, winged monster right out of a grade Z science fiction movie and went on a deadly killing spree. In hindsight, Kitty realized she probably should have panicked and run screaming the way everyone around her was doing. Instead she sprinted into action to take down the alien.
In the middle of all the screeching and the ensuing chaos, a hunk in an Armani suit suddenly appeared beside her, introduced himself as Jeff Martini with "the agency," and then insisted on leading her to a nearby limo to talk to his "boss." And that was how Kitty's new life among the aliens began..."Touched by an Alien" is the thrilling first installment of the "Alien" novels.
About the Author
Although she s best known for science fiction, paranormal, horror, and fantasy, Gini Koch s (ginikoch.com) first literary love is mystery and suspense, and her first literary crush, at the tender age of 7, was on Sherlock Holmes. Gini writes the fast, fresh and funny Alien/Katherine Kitty Katt series for DAW Books, the Necropolis Enforcement Files series, and the Martian Alliance Chronicles series for Musa Publishing, and as G. J. Koch she writes the Alexander Outland series. Gini s made the most of multiple personality disorder by writing under a variety of other pen names as well, including Anita Ensal, Jemma Chase, A. E. Stanton, and J. C. Koch. Her dark secret is that pretty much everything she writes has a mystery in it because mysteries are the spice of literary life.
Praise For Touched by an Alien…
"This delightful romp has many interesting twists and turns as it glances at racism, politics, and religion en route. It will have fanciers of cinematic sf parodies referencing Men in Black, Ghost Busters, and X-Men." —Booklist

"...a fun romp reminiscent of an extended X-Files episode. There are, of course, the Aliens mentioned in the title, a big bad guy, an ordinary-yet smart and capable woman thrust into unusual circumstances, humor, a spicy bit of romance...All make for a truly enjoyable read." —BookMom

"Trust me when I say, Koch makes it work. This book never tries to take itself too seriously; instead it's all kinds of fun, and pokes a sharp finger at pop culture moments..." —Tempting Persephone
"...a fun, fast-paced and sexy read..." —ALPHA Reader