Who Fears Death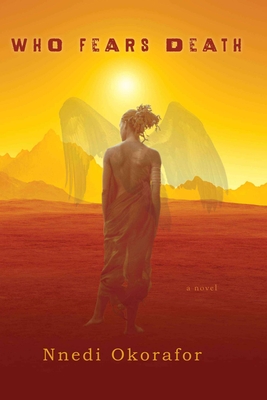 Who Fears Death
Daw Books, Mass Market Paperbound, 9780756407285, 419pp.
Publication Date: February 4, 2014
* Individual store prices may vary.
Buy at Local Store
Enter your zip code below to purchase from an indie close to you.
or
Buy Here
Description
International award-winning Nnedi Okorafor enters the world of magical realist literature with a powerful story of genocide in the far future and the woman who reshapes her world.
In a post-apocalyptic Africa, the world has changed in many ways, yet in one region genocide between tribes still bloodies the land. A woman who has survived the annihilation of her village and a terrible rape by an enemy general wanders into the desert hoping to die. Instead, she gives birth to an angry baby girl with hair and skin the color of sand. Gripped by the certainty that her daughter is different--special--she names her Onyesonwu, which means "Who fears death?" in an ancient language. It doesn't take long for Onye to understand that she is physically and socially marked by the circumstances of her violent conception.
She is Ewu--a child of rape who is expected to live a life of violence, a half-breed rejected by both tribes. But Onye is not the average Ewu. Even as a child, she manifests the beginnings of a remarkable and unique magic. As she grows, so do her abilities, and during an inadvertent visit to the spirit realm she learns something terrifying: Someone powerful is trying to kill her.
Desperate to elude her would-be murderer and to understand her own nature, she embarks on a journey in which she grapples with nature, tradition, history, true love, and the spiritual mysteries of her culture, and ultimately teaches her why she was given the name she bears: Who Fears Death.
About the Author
Nnedi Okorafor is a novelist of African-based science fiction, fantasy, and magical realism for both children and adults. Born in the United States to two Nigerian immigrant parents, Nnedi is known for weaving African culture into creative evocative settings and memorable characters. In a profile of Nnedi s work titled, Weapons of Mass Creation, the "New York Times" called Nnedi s imagination stunning.

Nnedi saccolades includethe World Fantasy Award for Best Novel for "Who Fears Death".Her young adult novels are "Akata Witch" (an Amazon.com Best Book of the Year), "Zahrah the Windseeker" (winner of the Wole Soyinka Prize for African Literature), and "The Shadow Speaker" (winner of the CBS Parallax Award). She is a professor of creative writing and literature at the University of Buffalo.
Praise For Who Fears Death…
"A fantastical, magical blend of grand storytelling." —Publishers Weekly (starred review)

"Beautifully written, this is dystopian fantasy at its very best. Expertly exploring issues of race, gender, and cultural identity, Okorafor blends future fantasy with the rhythm and feel of African storytelling. " —Library Journal (starred review)
"Both wondrously magical and terribly realistic." —The Washington Post

"Believable, nuanced characters of color and an unbiased view of an Africa full of technology, mysticism, culture clashes and true love." —Ebony Magazine (editor's pick)
"Her pacing is tight. Her expository sections sing like poetry. Descriptions of paranormal people and battles are disturbingly vivid and palpable. But most crucial to the book's success is how the author slowly transforms Onye's pursuit of her rapist father from a personal vendetta to a struggle to transform the social systems that created him." —The Village Voice
"Okorafor is a master storyteller who combines recent history, fantasy, tradition, advanced technology, and culture into something wonderful and new that should not be missed." —RT Book Review (top pick)

"To compare author Nnedi Okorafor to the late Octavia E. Butler would be easy to do, but this simple comparison should not detract from Okorafor's unique storytelling gift." —New York Journal of Books