The Wise Man's Fear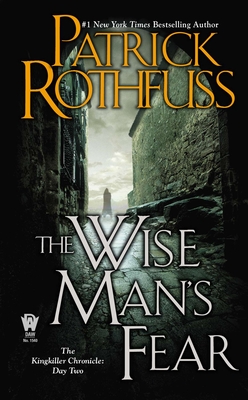 The Wise Man's Fear
The Kingkiller Chronicle: Day Two
Daw Books, Paperback, 9780756407919, 1120pp.
Publication Date: April 2, 2013
* Individual store prices may vary.
Buy at Local Store
Enter your zip code below to purchase from an indie close to you.
or
Buy Here
Description
" There are three things all wise men fear: the sea in storm, a night with no moon, and the anger of a gentle man.
My name is Kvothe. You may have heard of me."
So begins the tale of a hero told from his own point of view a story unequaled in fantasy literature. Now in "The Wise Man's Fear," Day Two of The Kingkiller Chronicle, Kvothe takes his first steps on the path of the hero and learns how difficult life can be when a man becomes a legend in his own time.
About the Author
Patrick Rothfuss vit dans le Wisconsin, ou il enseigne a l'universite. A ses heures perdues, il tient une chronique satirique, pratique la desobeissance civile et tate de l'alchimie. Il aime les mots, rit souvent et refuse de danser.
Praise For The Wise Man's Fear…
"The best epic fantasy I read last year... I gulped it down in a day, staying up almost to dawn reading, and I am already itching for the next one. He's bloody good, this Rothfuss guy."
— George R. R. Martin, #1 New York Times bestselling author of A GAME OF THRONES

"As seamless and lyrical as a song from the lute-playing adventurer and arcanist Kvothe, this mesmerizing sequel to Rothfuss's 2007 debut, The Name of the Wind, is a towering work of fantasy.... This breathtakingly epic story is heartrending in its intimacy and masterful in its narrative essence, and will leave fans waiting on tenterhooks for the final installment."
— Publishers Weekly (starred)

"Reminiscent in scope of Robert Jordan's Wheel of Time series and similar in feel to the narrative tour de force of The Arabian Nights, this masterpiece of storytelling will appeal to lovers of fantasy on a grand scale."
— Library Journal (starred)

"The Wise Man's Fear fairly leaps off the page, whatever the setting and circumstances"
— Locus

"This sequel carries the first book's ideas and wild exuberance further, with aplomb. By combining bold choices with bolder sincerity, Rothfuss has found one of the secrets of great storytelling. He doesn't reinvent the wheel, but he knows damn sure how to ride it."
— The Onion A. V. Club

"In the end, I think that if I distill why I've loved these books so much more than others, it's because of this: They're beautiful. Wise Man's Fear is a BEAUTIFUL book to read. Masterful prose, a sense of cohesion to the storytelling, a wonderful sense of pacing.... None of that is the reason for the awesomeness any more than a single dab of paint is the reason why a Monet is a thing of wonder. But if you step back...you are left with a sense of awe. There is a beauty to Pat's writing that defies description."
— Brandon Sanderson, New York Times bestselling author of THE WAY OF KINGS

"The Wise Man's Fear was worth waiting for. It's about as good as this kind of fantasy can possibly get.... This is an extremely immersive story set in a flawlessly constructed world and told extremely well. I don't want to criticize it and analyse it—I don't want to step that far away from it. I want to sink down below the surface of it and become completely immersed."
— Jo Walton, Tor.com