Half-Off Ragnarok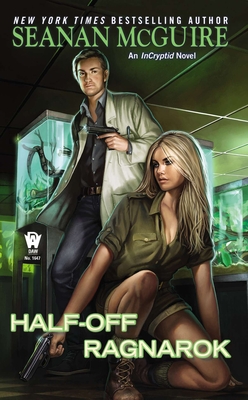 Half-Off Ragnarok
Daw Books, Mass Market Paperbound, 9780756408114, 356pp.
Publication Date: March 4, 2014
* Individual store prices may vary.
Shop Local
Enter your zip code below to find indies closest to you.
Description
What do gorgons, basilisks, and frogs with feathers all have in common? They're all considered mythological by modern science, and some people are working very hard to keep them that way. Alexander Price is a member of a cryptozoological lineage that spans generations, and it's his job to act as a buffer between the human and cryptid worlds--not an easy task when you're dealing with women who has snakes in place of hair, little girls who may actually be cobras, and brilliant, beautiful Australian zookeepers. And then there's the matter of the murders...
Alex thought he was choosing the easier career when he decided to specialize in non-urban cryptids, leaving the cities to his little sister, Verity. He had no idea what he was letting himself in for. It's a family affair, and everyone--from his reanimated grandfather to his slightly broken telepathic cousin--is going to find themselves drawn in before things get any better.
"Half-Off Ragnarok" is the third installment of the highly praised "InCryptid" series.

About the Author
Seanan McGuire is a California-based author with a strong penchant for travel, and can regularly be found just about anyplace capable of supporting human life (as well as a few places that probably aren't). Early exposure to a vast number of books left her with a lifelong affection for the written word, and led, perhaps inevitably, to her writing books of her own, starting somewhere around the age of eleven. The October Daye novels are her first published fantasy series. The InCryptid novels are her second urban fantasy series for DAW. Both an artist and an accomplished, independent folk musician and song writer, Seanan shares her California farmhouse with a wide variety of books, musical instruments, local wildlife, and Siamese and Maine Coon cats. She holds packed concerts at her book signings in stores like Borderlands.
Praise For Half-Off Ragnarok…
"McGuire's imagination is utterly boundless. The world of her InCryptid series is full of unexpected creatures, constant surprises and appealing characters, all crafted with the measured ease of a skilled professional, making the fantastic seem like a wonderful reality." —RT Reviews

"Always well-written and tightly plotted, this is quite simply some of the best urban fantasy out there." —Un:Bound

"Half-Off Ragnarok is my favorite book in the InCryptid series thus far...If urban fantasy, intriguing animals, and fast-paced adventure is your thing, you're going to love Half-Off Ragnarok. Highly recommended." —Jennifer Brozek