Immortal Muse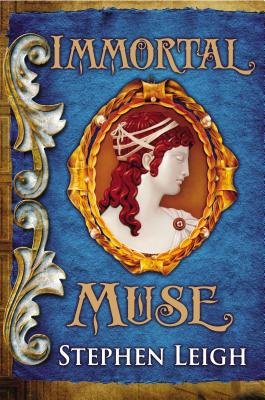 Immortal Muse
Daw Books Inc. Elizabeth R. Wollheim Sheila E, Hardcover, 9780756409562, 535pp.
Publication Date: March 4, 2014
* Individual store prices may vary.
Buy at Local Store
Enter your zip code below to purchase from an indie close to you.
or
Buy Here
Description
An immortal Muse whose very survival depends on the creativity she nurtures within her lovers
Another immortal who feeds not on artistry but on pain andtorment...
A chase through time, with two people bound together in enmity and fury
Magic and science melded together into one, and an array of the famousand infamous, caught up unawares in an ages-long battle

"Immortal Muse" is a tale that takes the reader on a fascinating journey from Paris of the late 1300s with the alchemists Perenelle and Nicolas Flamel, tocontemporary New York City.Along the way, there are interludes with Bernini in Rome in 1635; with Vivaldi in Venice of 1737; with Antoine-Laurent deLavoisier and Robespierre in the Paris of the French Revolution; with William Blake and John Polidori in 1814; with Gustav Klimt in fin de siecle Vienna;with Charlotte Salomon in WWII France. And in modern-day New York, a complicated dance of love and violence finally brings a resolution to the centuries-old deadly feud.
About the Author
Stephen Leigh is a Cincinnati-based, award-winning author with nineteen science fiction novels and over forty short stories published. He has been a frequent contributor to the Hugo-nominated shared world series "Wild Cards", edited by George R. R. Martin. He teaches creative writing at Northern Kentucky University. Stephen Leigh has written the fantasy trilogy Assassin's Dawn, Immortal Muse, and The Crow of Connemara. He can be found at farrelworlds.com.
Praise For Immortal Muse…
"Mythology, alchemy and fantasy all coalesce in Leigh's Immortal Muse, creating the perfect combination for readers looking for their next stellar read. Leigh has masterfully created a fantastical adventure for his audience...The alternating chapters of past and present will whet readers' appetites for more adventure and intrigue, and will leave them wanting more. The author weaves mythic history with a bit of action, murder and, of course, spice--and has this reader wondering why I'm only discovering him now. This is definitely a Top Pick! perfect for those craving a bit of intirgue and history." -- RT Reviews (Top Pick)

"Leigh seamlessly inserts his two immortals into history, playing with actual people and events to deliver beautifully-rendered glimpses of different eras. Leigh strikes the perfect balance between past and present, real and imagined." -- Publishers Weekly

"Immortal Muse is an unforgettable tale that sweeps readers from 1300s Paris to modern-day New York." – Risingshadow