It's Not That Complicated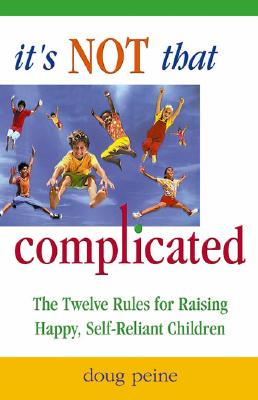 It's Not That Complicated
The Twelve Rules for Raising Happy, Self-Reliant Children
Hci, Paperback, 9780757300042, 175pp.
Publication Date: April 22, 2002
* Individual store prices may vary.
Buy Now
or
Shop Local
Enter your zip code below to purchase from an indie close to you.
Description
Raising Kids Today Is Complicated Business . . .
Ever find yourself embarrassed for the exasperated mother ahead of you in line at the supermarket whose child is throwing a tantrum, or the frazzled father whose teen is making a scene? Even worse, ever found yourself in their position, scratching your head as to how you ever could have raised such offspring?
As many parents can attest, the checkout line is the perfect stage for one of the most storied power struggles in human history: the battle of wills between parent and child a battle which, if not handled properly, can result in a child who is selfish, undisciplined and incapable of relating well in the world.
Enter It's Not That Complicated, a no-nonsense, practical guide for parents that exposes the twelve most common parenting mistakes and then offers simple solutions. This is not like other parenting books, written by "experts" who have Ph.D.s but have never changed a diaper. It is the culmination of author Doug Peine's years in the trenches as a parent and a practicing lawyer who often finds himself mediating battles between the adult products of bad parenting.
By following the book's easy-to-implement rules, Peine shows parents how to praise without pampering; how to instill confidence not cockiness; how to set guidelines without guilt and how to punish with purpose rather than anger. The result? Responsible, respectful, happy children who are well equipped for adulthood.
This book will show you that while being a parent can sometimes be difficult, it can also be the most rewarding experience of your life, if done right and with consistency and it's not that complicated.

About the Author


Doug Peine is a lawyer practicing criminal and civil appeals in St. Paul and Minneapolis, Minnesota. He has published several articles in legal publications. This is his first book. He and his wife, Christine Scotillo, and their son, Nicholas, live in St. Paul.