Real Men Do Yoga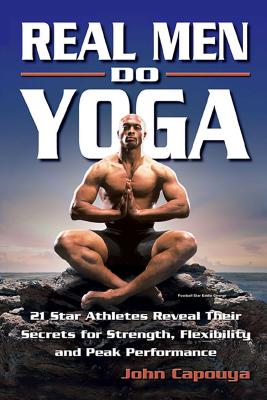 Real Men Do Yoga
21 Star Athletes Reveal Their Secrets of Strength, Flexibility and Peak Performance
Hci, Paperback, 9780757301124, 195pp.
Publication Date: August 2003
* Individual store prices may vary.
Buy Now
or
Shop Local
Enter your zip code below to purchase from an indie close to you.
Description
With its revolutionary approach to yoga and innovative, male-oriented instruction, "Real Men Do Yoga "will be the definitive guide for both novice and veteran men who are discovering the innumerable physical and mental benefits of yoga. Satisfying the male fascination with sports and admiration for athletes are interviews with more than twenty pros, all of whom are enthusiastic yoga practitioners: football's Eddie George, Shannon Sharpe and Amani Toomer; baseball pitchers Barry Zito (2002 Cy Young Award winner) and Al Leiter, star hockey goalie Sean Burke and NBA superstar Kevin Garnett as well as pro golfers and tennis players. Photos of sports stars doing yoga, such as football greats Dan Marino and Chris Carter, drive home a powerful message. Each chapter offers a combination of stretches and strength-builders that target and benefit specific areas: Conquering back pain (which afflicts an estimated 10 million men) Improving sports performance including yoga for golf, running, basketball, tennis and more Increasing flexibility in the upper body, spine and lower body Building muscle strength Improving sexual performance
In a sea of yoga books aimed at women, "Real Men Do Yoga "is an easily accessible, "non-New Agey" guidebook that takes something mysterious to American men and offers a reassuringly effective and practical guide that they'll actually use.
About the Author
John Capouya is a professor of journalism and writing at the University of Tampa. He was formerly an editor at Newsweek, the New York Times, SmartMoney magazine, and New York Newsday, among other places. He is the author of Real Men Do Yoga and has contributed to numerous publications, including Sports Illustrated, Travel & Leisure, and Life. He and his wife, the artist and photo editor Suzanne Williamson, live in Tampa and New York City.