I Don't Know What I Want But I Want to Be Happy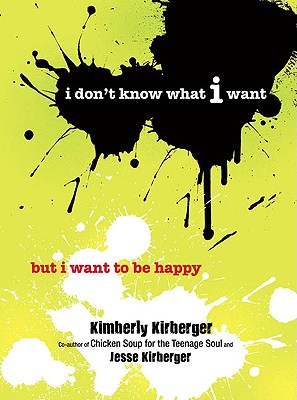 I Don't Know What I Want But I Want to Be Happy
Hci, Paperback, 9780757306747, 148pp.
Publication Date: June 1, 2009
* Individual store prices may vary.
Buy Now
or
Shop Local
Enter your zip code below to purchase from an indie close to you.
Description
Happiness is a choice available to you whenever you decide you want it.
If your outlook on life has become a continuous 'whatever, ' if you think of your life as a 'hit-and-miss' game that you mostly 'miss, ' if you are tired of feeling like a victim of your own negativity, you're not alone "I don't know what I want but I want to be happy" is about learning how to find the happiness that you think is missing from your life. It's about deciding what you want, setting goals, and then going about achieving them. It's about really examining yourself and turning everything upside-down and inside-out so you can find the parts that work for YOU.
Now, get happy by:
getting rid of negative self-talk finding creative outlets feeling healthier having a 'gratitude attitude' telling the difference between want and need making happy time...and so much more
About the Author
KIMBERLY KIRBERGER is the coauthor of the bestselling original Chicken Soup for the Teenage Soul, the New York Times #1 bestselling Chicken Soup for the Teenage Soul II, Chicken Soup for the Teenage Soul Journal and the bestselling Chicken Soup for the College Soul. In addition, she is the author of the Teen Love series, which includes this book, as well as Teen Love: On Relationships and several forthcoming books and journals, dealing with themes that include friendship and tough issues. Based out of Pacific Palisades, California, Kirberger is also president of Inspiration And Motivation for Teens, Inc. (I.A.M. for Teens), a nonprofit organization dedicated to supporting and helping teens. She is also cofounder (along with Jack Canfield, Mark Victor Hansen and Health Communications, Inc.) of the Teen Letter Project, a nonprofit organization developed to handle the overwhelming outpouring from teens in response to the books in the Chicken Soup for the Teenage Soul series. Kirberger frequently speaks to and in support of teenagers nationwide.

Jesse Kirberger is a happy twenty-two-year-old. He plays guitar, sings, writes, and makes people laugh; really laugh. He also flips sausages, cleans buildings, serves a mean Italian ice, and can make the most incredible guitar you have ever seen or heard. Jesse is wise beyond his years and humane to a fault.