The Tap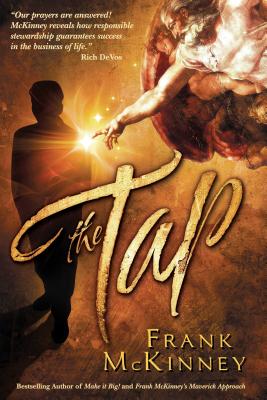 The Tap
Health Communications, Hardcover, 9780757313844, 279pp.
Publication Date: February 13, 2009
* Individual store prices may vary.
Buy at Local Store
Enter your zip code below to purchase from an indie close to you.
or
Buy Here
Description
Renowned real-estate 'rock czar' Frank McKinney reveals the most important spiritual principle of his astronomical success. He explains how God has tapped him (and taps everyone) many times in life, answering prayers and presenting life-changing opportunities. This book is for those who don't feel they're succeeding at the level they desire in the business we're all in: the business of life.
Whether you're seeking greater financial rewards or some other kind of uplift, this book reveals there's one solution: Learning to feel The Tap and then acting on it.
It primes you to start thinking that the rewards of success aren't meant for you alone, regardless of whether those rewards are already in hand or coming soon. But the rewards will come with astonishing speed and size to those who act on the greater responsibility that comes with greater blessings.
The Tap shows you the way.
Inspired by the biblical passage, 'from those to whom much is entrusted, much will be expected, ' The Tap promises readers that as they attune themselves to this enduring truth, they'll feel God's tap and experience breakthroughs beyond comprehension.
McKinney isn't a preacher or man of the cloth; he's a businessman who's discovered that faithful stewardship is a prerequisite to receiving greater resources.
In The Tap, McKinney shows how you, too, can enrich your life beyond what you might ever have imagined for yourself--if you learn how to listen and respond to The Tap.
Why, then, haven't you always recognized your "Tap Moments"? The Tap answers this by leading you to find how you've been blessed with the special ability to succeed at some level, yet the rewards of your success aren't meant for you alone.
You will learn that as you profit personally, you can choose to gain a greater awareness of the needs of others and enact the social responsibility that enduring success encourages you to pursue.
In The Tap, McKinney references scripture and uses examples from daily living, as he helps you recognize these special "Tap" opportunities and gain the self-confidence to expand your world for more success, happiness and fulfillment.
About the Author
Frank McKinney is a two-time international bestselling author, philanthropist, and extreme risk-taker best known for his unprecedented success as a real-estate "artist" and visionary. From his modest first $50,000 fixer-upper in 1986 to his first $2.2 million spec home on the ocean in 1992, McKinney has created and sold 36 oceanfront properties with an average selling price over $15 million. Now into 2009 and beyond, the world's wealthiest clamor for his masterpieces, each inspired by exotic locales and infused with vivid imagination. McKinney was recently recognized as one of the ten most influential people in luxury real estate and is the creator of two of the largest and most opulent "green" spec homes in the world, priced at $29 and $30 million. He lives with his wife, Nilsa, and their daughter, Laura, in Delray Beach, Florida. Visit Frank-McKinney.com and Burst-This.com.

Proceeds from all book sales go to benefit the good works of McKinney's Caring House Project Foundation, which provides a self-sustaining existence for some of the most desperately poor and homeless families around the world.