Stop Second-Guessing Yourself--The Preschool Years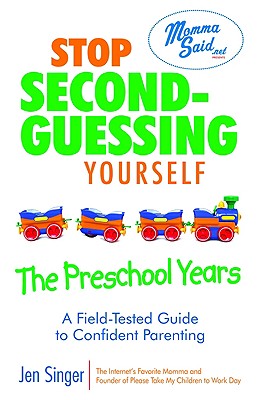 Stop Second-Guessing Yourself--The Preschool Years
A Field-Tested Guide to Confident Parenting
Hci, Paperback, 9780757314179, 264pp.
Publication Date: September 2009
* Individual store prices may vary.
Not Currently Available for Direct Purchase
or
Shop Local
Enter your zip code below to purchase from an indie close to you.
Description
You didn't know you had to drill your child on how to draw the proper stick person to gain admission into the best preschool . . .or that there was a waiting list since your baby was in utero. When the other mommies give you the evil eye over a box of doughnuts, you realize that you must have missed the memo on playdate etiquette. As the saying goes, "Momma said there'd be days like these. . . . " Except your mother didn't. That's because parenting has changed since the days when stay-at-home moms spotted one another and swapped secrets across the back fence. Today, many moms feel like we're flying solo without a safety net, which darn it you probably needed to send to school for Show and Share today.
In Stop Second-Guessing Yourself: The Preschool Years, Jen Singer, "The Internet's Favorite Momma," shares her must-know advice plus dozens of "what works" tips from other moms. In this manifesto for modern momhood, she gives the girlfriendly skinny on everything that could confound you during the preschool years, from sleep issues to sibling rivalry, from starting school to stopping whining, from potty-training to picky eaters. With candid confessions, prescriptive tips, and a much-needed dose of humor, this must-have resource will help moms like you lose the doubt and gain much-needed advice and a pat on the back.
About the Author
MommaSaid's creator, Jen Singer, a mom of two tween boys and the hostess of the frat house for fourth graders, has been quoted in numerous magazines, newspapers and websites, including the "New York Times, USA Today, The Chicago Tribune, The Los Angeles Times, The Washington Post", Associated Press articles, "Family Circle, Parenting, Parents, Real Simple" and more. She has appeared on ABC's World News Now, NBC News and CBS's The Early Show, Good Day New York, as well as dozens of radio programs, including WCBS NewsRadio88, Sally Jessy Raphael Talk Net and XM's Take Five. She has also appeared on several Canadian TV shows.

She is the creator of www.MommaSaid.net, back fence of the Internet, and a Forbes Best of the Web community, is a favorite of moms worldwide. She is the creator of ""Please" Take My Children to Work Day," a holiday for stay-at-home moms celebrated on the last Monday each June which has been officially proclaimed by governors in a dozen states nationwide.

She was named one of Swiffer's first Amazing Women of the Year in 2006. She has been a Huggies PULL-UPS(R) Potty Training Partner and a boys' soccer coach. She has served as a spokesperson for Listerine Agent Cool Blue(R). and is a member of the Similac Moms Alliance(TM).