Sex, Thugs, and Rock & Roll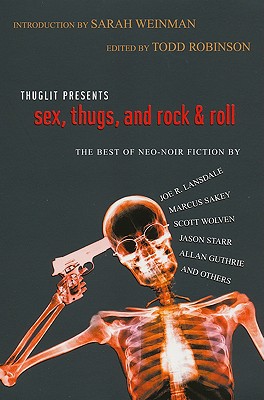 Sex, Thugs, and Rock & Roll
Kensington Publishing Corporation, Paperback, 9780758222671, 318pp.
Publication Date: June 1, 2009
* Individual store prices may vary.
Buy at Local Store
Enter your zip code below to purchase from an indie close to you.
or
Not Currently Available for Direct Purchase
Description
My fingers can't find the bullet holes. They're there, because they brought me down.
Like a guitar riff sharp enough to slit a throat or the devil's amplifiers shrieking through the lonely night, this bonanza of blood and brawn rings with the vibe of the best new noir suspense. Culled from the net's most hardcore, award-winning site, these fresh, raw, and uncut stories pack a stiff punch. . .
"As long as she keeps calling me, there's hope. Hope is a dangerous thing."
No matter where you turn--a pair of bisexual, ass-kicking Vikings on a slaughter trip; a sexy forty-something thief with angles as lethal as her curves; a porn-comic artist up against one deadly last laugh; a city's most savage gang under the gun and way out of time; or a south-of-the-borderland sleaze pit where everyone's a winner--no one gets out alive. . .
"Escape is a bitch. A man alone and on foot would have to be crazy to try. Apparently he was."
Rev up for a speed-fueled hell-trip through the dark side, where a backbeat can kill, no scene falls short of badass, and the hooligans bay at the moon. . .
"This book is dripping so much blood and guts and marrow, it's impossible to read it in more than a single sitting. Be prepared to be shattered, shell-shocked and bruised, as Thuglit's emissaries continue to write wrongs that are very, very right." --Sarah Weinman
Big Daddy Thug/Todd Robinson's writing has appeared in "Plots With Guns, Danger City, Demolition, Out Of The Gutter, Pulp Pusher, Crimespree and Writers Digest's The Year's Best Writing 2003." He was nominated for a 2006 Derringer Award from the Short Mystery Fiction Society, and is the creator and chief editor of Thuglit.com.
The stories he's edited for Thuglit.com have been nominated for several awards, including The Derringer and The Million Writer's Award, and been have been selected for "The Best American Mystery Stories" and "Best Noir 2006."
He lives and works in New York with his wife (Lady Detroit), a ferret named Matilda, and three freakin' cats.
About the Author
Robinson (MCP, MCP+I, MCP+SB, MCSE, MCSE+I, MCSD, MCDBA, MCT, CCNA), is an internet application developer and data warehousing guru for Metlife. He specializes in MTS/COM+, ASP, XML, SQL Server and related Windows DNA technologies. In addition to his normal job duties at Metlife, he is President of GradesNow.com an internet application served for teachers, students and parents to allow access to grades online.

Lenore Glen Offord (1905-1991) was a writer and critic who wrote mysteries set in and around San Francisco. She was mystery reviewer for the San Francisco Chronicle for over thirty years, winning an Edgar award for Outstanding Criticism in 1952. Offord published twelve novels, eight of them mysteries.