Shoulder Bags and Shootings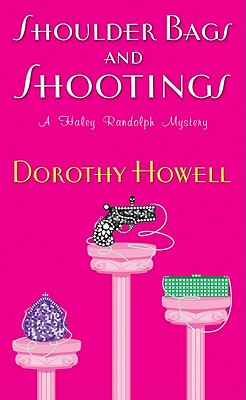 Shoulder Bags and Shootings
Kensington Publishing Corporation, Mass Market Paperbound, 9780758223791, 313pp.
Publication Date: May 2011
* Individual store prices may vary.
Shop Local
Enter your zip code below to find indies closest to you.
Description
Life is almost perfect for fashionista and amateur sleuth Haley Randolph. She just vacationed in Europe with her boyfriend Ty Cameron, owner of Holt's Department Store. And now Ty's grandmother is letting Haley drive her Mercedes. If only Haley could get her hands on the new Sinful handbag. It's totally out of stock, and Haley would rather die than buy a knockoff. But when she finds the body of her designer purse party rival, Tiffany Markham, in the trunk of the Mercedes, she's not so sure she wants to trade places after all. . .
Topping the list of suspects, Haley doesn't deny seeing red when Tiffany stole her purse party idea--and made more money. But she wasn't jealous enough to commit murder. Now she'll have to solve this mystery quickly--and find that Sinful bag--before she becomes a killer's next fashion fatality. . .
"A clever, fast-moving plot." --"Publishers Weekly"
"For fans of lightweight, humorous mysteries." --"Booklist.
About the Author
DOROTHY J. HOWELL, currently an adjunct visiting professor at Vermont Law School and a visiting professor at Franklin Pierce Law School, is a freelance counsel whose areas of special interest include intellectual property and environmental law. The subject of legal protection for fictional characters is a specialty of Professor Howell's, as she is the author of several novels as well as scholarly materials for a variety of professional audiences.