Two Rivers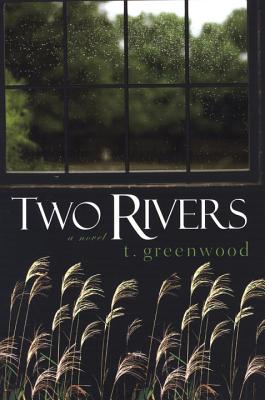 Two Rivers
Kensington Publishing Corporation, Paperback, 9780758228772, 373pp.
Publication Date: January 1, 2009
* Individual store prices may vary.
Buy at Local Store
Enter your zip code below to purchase from an indie close to you.
or
Buy Here
Description
T. Greenwood's new novel is a powerful, haunting tale of enduring love, destructive secrets, and opportunities that arrive in disguise . . .
In Two Rivers, Vermont, Harper Montgomery is living a life overshadowed by grief and guilt. Since the death of his wife, Betsy, twelve years earlier, Harper has narrowed his world to working at the local railroad and raising his daughter, Shelly, the best way he knows how. Still wracked with sorrow over the loss of his life-long love and plagued by his role in a brutal, long-ago crime, he wants only to make amends for his past mistakes.
Then one fall day, a train derails in Two Rivers, and amid the wreckage Harper finds an unexpected chance at atonement. One of the survivors, a pregnant fifteen-year-old girl with mismatched eyes and skin the color of blackberries, needs a place to stay. Though filled with misgivings, Harper offers to take Maggie in. But it isn't long before he begins to suspect that Maggie's appearance in Two Rivers is not the simple case of happenstance it first appeared to be.
""TWO RIVERS" is a dark and lovely elegy, filled with heartbreak that turns itself into hope and forgiveness. I felt so moved by this luminous novel." --Luanne Rice, "New York Times " bestselling author
" "Two Rivers" is a convergence of tales, a reminder that the past never washes away, and yet, in T. Greenwood's delicate handling of time gone and time to come, love and forgiveness wait on the other side of what life does to us and what we do to it. This novel is a sensitive and suspenseful portrayal of family and the ties that bind." --Lee Martin, author of "The Bright Forever and River of Heaven"
"The premise of "TWO RIVERS" is alluring: the very morning a deadly train derailment upsets the balance of a sleepy Vermont town, a mysterious girl show up on Harper Montgomery's doorstep, forcing him to dredge up a lifetime of memories--from his blissful, indelible childhood to his lonely, contemporary existence. Most of all, he must look long and hard at that terrible night twelve years ago, when everything he held dear was taken from him, and he, in turn, took back. T. Greenwood's novel is full of love, betrayal, lost hopes, and a burning question: is it ever too late to find redemption?" - Miranda Beverly-Whittemore, author of "The Effects of Light" and the Janet Heidinger Kafka Prize-winning "Set Me Free"
"From the moment the train derails in the town of Two Rivers, I was hooked. Who is this mysterious young stranger named Maggie, and what is she running from? In "Two Rivers, " T. Greenwood weaves a haunting story in which the sins of the past threaten to destroy the fragile equilibrium of the present. Ripe with surprising twists and heart-breakingly real characters, "Two Rivers " is a remarkable and complex look at race and forgiveness in small-town America." --Michelle Richmond, "New York Times " Bestselling Author of "The Year of Fog " and "No One You Know "
""Two Rivers " is a stark, haunting story of redemption and salvation. T. Greenwood portrays a world of beauty and peace that, once disturbed, reverberates with searing pain and inescapable consequences; this is a story of a man who struggles with the deepest, darkest parts of his soul, and is able to fight his way to the surface to breathe again. But also--maybe more so--it is the story of a man who learns the true meaning of family: When I am with you, I am home. A memorable, powerful work." --Garth Stein, "New York Times "bestselling author of "The Art of Racing in the Rain "
Praise for T. Greenwood's Novels
Undressing The Moon
"This beautiful story, eloquently told, demands attention. Highly recommended." "Library Journal" (starred review)
"Greenwood has skillfully managed to create a novel with unforgettable characters, finely honed descriptions, and beautiful imagery." "Book Street USA"
"A lyrical, delicately affecting tale." "Publishers Weekly"
Nearer Than The Sky
"Greenwood is an assured guide through this strange territory; she has a lush, evocative style." "The New York Times Book Review"
"Greenwood writes with grace and compassion about loyalty and betrayal, love and redemption in this totally absorbing novel about daughters and mothers." Ursula Hegi, author of "Stones from the River"
"A complicated story of love and abuse told with a directness and intensity that packs a lightning charge." "Booklist"
Breathing Water
"A vivid, somberly engaging first book." Larry McMurtry, author of "Lonesome Dove"
"A poignant, clear-eyed first novel. . .filled with careful poetic description. . .the story woven skillfully." "The New York Times Book Review.