The Truth Is the Light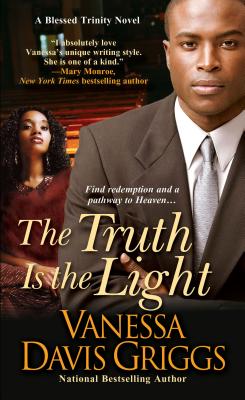 The Truth Is the Light
Kensington Publishing Corporation, Mass Market Paperbound, 9780758273185, 336pp.
Publication Date: June 4, 2013
* Individual store prices may vary.
Buy Now
or
Shop Local
Enter your zip code below to purchase from an indie close to you.
Description
I absolutely love Vanessa's unique writing style. She is one of a kind. --Mary Monroe, "New York Times" bestselling author
"Full of crazy church politics and a huge cast, Griggs keeps this on-going story alive by addressing the challenges of living by Biblical rules with homespun humor." --"Publishers Weekly "
As the son of a well-known minister, Clarence Walker knows his decision to leave his father's flock and join Pastor George Landris's mega-church ministry is controversial. But little does he suspect it will ignite a firestorm of revelations that will shake the heart of the congregation--and his very own family. . .
From a long-buried secret that will bring the paternity of not one, but two women, to light, to a parishioner whose long awaited love match may be thwarted by an unexpected source, hidden truths are coming to the surface. But most shocking is that Clarence's own father, Reverend Marshall Walker, may not be the pious figure he claims to be. And since evidence of his transgressions lies in the hands of his arch nemesis, it's only a matter of time before Reverend Walker's life--and his church--falls like a house of cards.
Praise For Vanessa Davis Griggs
"A beautiful, hip, and spiritual retelling of one of the most memorable and redemptive stories in the Bible." --Freshfiction.com on "Redeeming Waters"
"A smart novel that addresses an issue that many in the church shy away from--divorce--with frank realism." --"Library Journal "on" Practicing What You Preach.
About the Author
Vanessa Davis Griggs, author of Promises Beyond Jordan and The Rose of Jericho, is a novelist, newspaper columnist, and motivational speaker. She came to writing after eighteen years of service to the phone company. She lives in Birmingham, Alabama.

Gail Joseph Owen is the mother of Tara Owen. This book is based on certain writings of Tara Owen as well as information gathered and provided by Gail Joseph Owen. Owen is the owner of Joseph Realty in Chelsea, Alabama. This is Owen's first published manuscript. Vanessa Davis Griggs is an accomplished, best selling, award-winnng author with two-self published novels and two mainstream published novels: "Destiny Unlimited, The Rose of Jericho, Promises Beyond Jordan," and "Wings of Grace." Griggs has signed for three novels (a trilogy) with Kensington/Dafina. Griggs is a full-time author and motivational speaker.