Dead Letters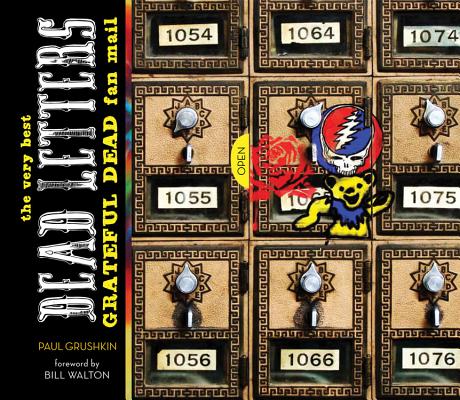 Dead Letters
The Very Best Grateful Dead Fan Mail
Voyageur Press (MN), Hardcover, 9780760338544, 208pp.
Publication Date: October 22, 2011
* Individual store prices may vary.
Buy at Local Store
Enter your zip code below to purchase from an indie close to you.
or
Not Currently Available for Direct Purchase
Description
Whether or not you've heard every song in their catalog, spent countless hours learning the chords to "Casey Jones," or were one of millions lucky enough to have seen them live, odds are the Grateful Dead are not complete strangers to your world.
Rock 'n' roll's seminal jam-band, the Grateful Dead were one of the planet's most successful touring rock bands to ever set foot on the stage. Formed in 1965 and disbanded after the death of Jerry Garcia, their lead guitarist, in 1995, the Dead entranced countless rabid fans with a mind-altering mix of no-rules songwriting, feel-good harmonies, and musicianship that took a backseat to no band.
At the core of the Grateful Dead experience was the world's most devoted fan base: Dead Heads. Addicted, in the best possible definition of the word, to the music and the experience, Dead Heads went to extraordinary, often inspiring, lengths to get their hands on concert tickets by mailing the band and its staff. After all, the only way to get tickets for the Dead was to go directly to the source. Most often, this took the form of letters (and envelopes) with personalized Dead artwork the likes of which the U.S. Postal Service had ever seen.
Since the band's earliest days, Grateful Dead staff saved tens of thousands of decorated ticket-request envelopes sent to them by Dead Heads hoping to capture the ticketing staff's attention with their mind-bending designs. These envelopes are inspirational and hugely insightful, not to mention brilliantly illustrated and unique within the world of rock. Now, for the first time in print, these unique pieces of art have found a home.
From author, rock historian, and the Dead Head of all Dead Heads, Paul Grushkin, Dead Letters: The Very Best Grateful Dead Fan Mail collects more than 300 of these mind-blowing envelope masterpieces, all presented in 14 thematic chapters. Fully authorized by the Grateful Dead, Dead Letters also includes, for further historical context, many rare historical photos and memorabilia, all creating a trip, as it were, down memory lane. A foreword from basketball legend (and supremely dedicated Dead Head) Bill Walton rounds out this one-of-a-kind package.
The end result is a portrayal of the Grateful Dead as related by those who loved them the most -- a love song from fan to artist, all sealed with a stamp.
About the Author
Paul Grushkin is the author of The Art of Rock, the standard work in the field of rock posters, and its bestselling followup, Art of Modern Rock. He is the author of several other books in the field of rock history and memorabilia, including Grateful Dead: The Official Book of the Deadheads and Treasures of the Hard Rock Cafe. A former archivist for promoter Bill Graham, he has more than two decades' experience at the forefront of rock merchandising, having mounted campaigns for top acts and created his own Phantom clothing line.

Bill Walton was NCAA player of the year at UCLA from 1972 to 1974, when UCLA set an NCAA record eighty-eight consecutive-game winning streak. A former NBA Champion and MVP, he was inducted into the Basketball Hall of Fame and selected as one of the NBA s Fifty Greatest Players ever. He has also had a successful award-winning broadcasting career with ABC, ESPN, NBC, MSNBC, CBS, Turner, and Fox, among others. He currently resides in his hometown of San Diego with his family. Visit him at BillWalton.com.
Praise For Dead Letters…
"Each of the unique pieces of art is displayed fully formed and is intriguing not only for its relationship to the band but also for the level of devotion that so many fans have held for so long to their favorite cause." - Vintage Guitar
"5 out of 5 stars
…a sprawling and beautiful tome that more than adequately documents the phenomenon that the GDTS inadvertently created and is fascinating and engaging as a skim-through coffee-table book or as a full-on read. And while the artwork is clearly the focal point of the book, Grushkin's accompanying text provides an informative and enjoyable history of the Grateful Dead and insight into the behind-the-scenes activity that helped the legacy endure." -
www.mediamikes.com
It's a fascinating read and one that captures the spirit of the Deadheads in a new light. It's not all images, though those are the most appealing, it also includes the stories behind the sales team and band from their perspective. - Creative Loafing