Fighting Cockpits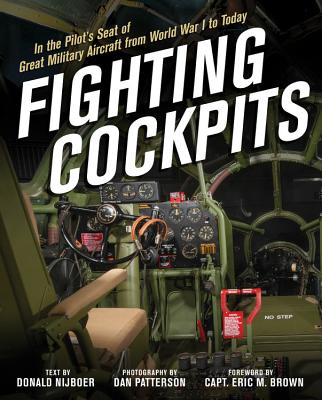 Fighting Cockpits
In the Pilot's Seat of Great Military Aircraft from World War I to Today
Zenith Press, Hardcover, 9780760349564, 224pp.
Publication Date: June 1, 2016
* Individual store prices may vary.
Buy at Local Store
Enter your zip code below to purchase from an indie close to you.
or
Buy Here
Description
Climb inside the cockpits of the world's most famous military aircraft from World War I, World War II to the present day
What was it like to sit in the pilot's seat and take control of a P-51 Mustang in World War II? What about an F-14 Tomcat at the height of the Cold War? Or a Lockheed Martin F-22 Raptor today? The cockpits of these fighter and bomber aircraft are revealed in Fighting Cockpits. Showcasing more than 50 of the world's most famous combat cockpits from early World War I aircraft to present-day fighters, this book includes more than 200 rich color photos from photographer Dan Patterson, as well as detailed history about combat cockpit development from aviation expert and historian Donald Nijboer.
In the beginning of the twentieth century, aircraft had open cockpits. Pilots during World War I had to bundle up with fleece-lined leather coats, sheepskin thigh boots, and woolen underclothing to avoid freezing in the cold air four miles up. There was no heating, no oxygen for high flying, no retractable undercarriage, no engine starter, no radio links with air or ground, no brakes to help with landing, and no parachutes. The pilot was afforded merely left and right foot pedals to control the rudder and a single central control stick to cause the nose of the plane to pitch up or down. Since then, the cockpits of fighters and bombers have seen quite an evolution, and the chronology is represented in Fighting Cockpits. Presented in large-format volume, this book will complete any history buff or aviation enthusiast's library.
Aircraft includes...
Wind in the Wires: Nieuport 28, Royal Aircraft Factory S.E.5, Bristol F.2, Fokker Dr.I, Sopwith Camel, Sopwith Triplane, AEG G.IV, SPAD VII, Halberstadt CL.IV, Fokker D.VII
The Rise of the Monoplane: Martin MB-2, Hawker Hind, Fiat CR.32, Boeing P-26 Peashooter, Curtiss F9C, Sparrowhawk, Vought SB2U Vindicator, Westland Lysander, PZL P.11
World War II: Supermarine Spitfire, Messerschmitt Bf 109, Republic P-47 Thunderbolt, North American P-51 Mustang, Handley Page Halifax, Vickers Wellington, Focke-Wulf Fw 190 Wurger, Fairey Firefly, Fiat CR.42, Ilyushin Il-2 Sturmovik, Heinkel He 219 Uhu, Kawasaki Ki-45 Toryu, Curtiss SB2C Helldiver, Northrop P-61 Black Widow, Boeing B-17 Flying Fortress, Boeing B-29 Superfortress, Dornier Do 335 Pfeil, Messerschmitt Me 262 Schwalbe, Arado Ar 234 Blitz
Cold War to the Present: North American F-86 Sabre, Boeing B-52 Stratofortress, Grumman A-6 Intruder, General Dynamics F-111 Aardvark, Hawker Siddeley Harrier, McDonnell Douglas/Boeing F-15 Eagle, Grumman F-14 Tomcat, Fairchild Republic A-10 Thunderbolt II, General Dynamics/Lockheed Martin F-16 Fighting Falcon, Mikoyan MiG-29, Rockwell B-1 Lancer, Lockheed Martin F-117 Nighthawk, Lockheed Martin F-22 Raptor, Lockheed Martin F-35 Lightning II Joint Strike Fighter
About the Author
Donald Nijboer is an aviation author, historian, a documentary writer/producer, as well as a college instructor and Smithsonian speaker. His articles have appeared in Flight Journal, Aviation History, and Aeroplane Monthly. Donald lives in Toronto, Canada.Dan Patterson is an accomplished photographer who has excelled in the fields of portraiture, architecture, and aviation. His work has been featured in 23 books, and in 2003 he received the first annual Harry B. Combs Award from the National Aviation Hall of Fame for Excellence in the Preservation of Aviation History. The National Portrait Gallery in London selected five of his portraits of British aviators to be included in their permanent collection. In addition, he has served as an aviation lecturer for the Smithsonian Journeys program. Dan lives in Dayton, Ohio.