Barbecue Bible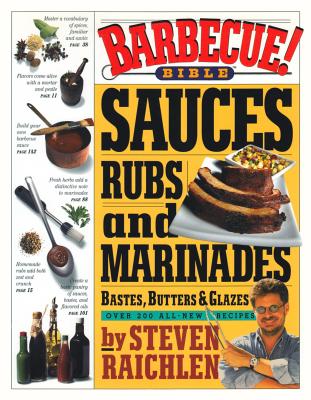 Barbecue Bible
Sauces, Rubs and Marinades, Bastes, Butters & Glazes
Workman Publishing, Paperback, 9780761119791, 304pp.
Publication Date: May 2000
* Individual store prices may vary.
Shop Local
Enter your zip code below to find indies closest to you.
Description
STEVEN RAICHLEN IS THE WORLD'S LEADING AUTHORITY...on international barbecue. The recipes in this book are finger-licking good...try them all! --Rich Davis, Creator of K.C. Masterpiece Barbecue Sauce
Transform meats and seafood into world-class barbecue with the flavor foundations, wet and dry, that give grilled food its character, personality, and soul. Chili-fired rubs, lemony marinades, buttery bastes, and pack-a-wallop sauces, mops, slathers, sambals, and chutneys - in over 200 recipes from around the globe, master griller Steven Raichlen shows how to add the expert touch to every dish in your repertoire, from a simply steak to an exotic kebab. Includes a short refresher course in grilling and a step-by-step guide to building a signature sauce.
About the Author
Steven Raichlen is America's "master griller" ("Esquire"). In addition to his bestselling, award-winning cookbooks, including T"he Barbecue" "Bible", "How to Grill", and "BBQ USA", articles by him appear regularly in "Food & Wine", "Bon Appetit", and other magazines and newspapers. He was host of PBS's popular series "Barbecue University" and "Primal Grill". "Bon Appetit" named him Cooking Teacher of the Year (2003). He has won 5 James Beard Awards, including two for his High-Flavor, Low-Fat series on which this book is based. He lives and grills in Coconut Grove, Florida and on Martha's Vineyard, Massachusetts.