Beer-Can Chicken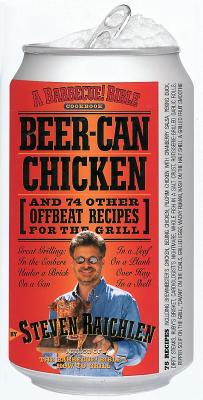 Beer-Can Chicken
And 74 Other Offbeat Recipes for the Grill
Workman Publishing, Paperback, 9780761120162, 326pp.
Publication Date: May 2002
* Individual store prices may vary.
Shop Local
Enter your zip code below to find indies closest to you.
Description
Chicken on a beer can? You bet When Steven Raichlen, America's barbecue guru, says it's the best grilled chicken he's ever tasted, cooks stop and listen.
An essential addition to every grill jockey's library, "Beer-Can Chicken "presents 75 must-try beer-can variations and other offbeat recipes for the grill. Recipes such as Saigon Chicken with Lacquered Skin and Spicy Peanut Sauce, Root Beer Game Hens, Beer-Can Turkey (uses the 32-ounce Foster's), Stoned Chicken (it's grilled under a brick), Dirty Steak, Fish on a Board (Salmon with Brown Sugar Glaze), Mussels Eclade-grilled under pine needles, Grilled Eggs, Wacky Rumaki, Rotisseried Garlic Rolls-even Grilled Yellow Pepper Soup will have your mouth-watering. Whether on a can, on a stick, under a brick, in a leaf, on a plank, or in the embers, each grilling technique is explained in easy-to-follow steps, with recipes that guarantee no matter how crazy the technique, the results are always outstanding. So pop a cold one and have fun.
About the Author
Steven Raichlen is America's "master griller" ("Esquire"). In addition to his bestselling, award-winning cookbooks, including T"he Barbecue" "Bible", "How to Grill", and "BBQ USA", articles by him appear regularly in "Food & Wine", "Bon Appetit", and other magazines and newspapers. He was host of PBS's popular series "Barbecue University" and "Primal Grill". "Bon Appetit" named him Cooking Teacher of the Year (2003). He has won 5 James Beard Awards, including two for his High-Flavor, Low-Fat series on which this book is based. He lives and grills in Coconut Grove, Florida and on Martha's Vineyard, Massachusetts.