Dad's Own Housekeeping Book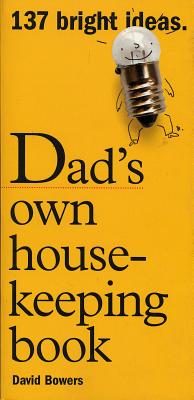 Dad's Own Housekeeping Book
Workman Publishing, Paperback, 9780761136675, 196pp.
Publication Date: May 24, 2006
* Individual store prices may vary.
Not Currently Available for Direct Purchase
or
Shop Local
Enter your zip code below to purchase from an indie close to you.
Description
Just because you re born with a Y chromosome doesn t excuse you from cleaning the bathroom, especially in this day and age when time's at a premium and partners have to be, well, partners. To help men step up to the plate (and wash it) is DAD S OWN HOUSEKEEPING BOOK, the book of everything your mother never taught you about taking care of a house.
Written by a real guy, in a real guy's voice and with a direct guy-to-guy point of view, DAD S OWN HOUSEKEEPING BOOK in the spirit of "Dad's Own Cookbook," with 270,000 copies in print takes even the most Swiffer-challenged dad and shows him that housekeeping is no different from yard work, that if you can organize your shop you can organize a kitchen, and if you can load a trunk you can load a dishwasher. From laundry room to attic storage, from the Five- Minute Attack Plan: Bathroom to the all-out assault of spring cleaning (it really does make a big difference), from mold to stains to picking-up-after-the-kids-without-driving-yourself-crazy, this is the comprehensive crash course. Here's how to do the laundry without dulling colors. Stock the pantry to make weekday meals infinitely easier. How to get mildew off the shower tiles. How to make a bed in one minute. How to be best friends with baking soda just one of the many tips the author gives for saving money. And what you can do in thirty minutes to make your house completely presentable for your mother-in-law. Sorry, no more excuses.
About the Author
David Bowers is the co-author of "Bake Like a Man: A Real Man' s Cookbook, writes " The Grillmaster" column for "Cabin Life magazine, and was the " Jake" of "Glamour magazine' s " Jake: A Man' s Opinion." He' s a stay-at-home dad who lives in New York with his wife and two children.

Serge Bloch (born 1956) is a cartoonist and illustrator. His work has appeared in major advertising campaigns and in publications including the New York Times, Time, and the Washington Post. His books for children include I Dare You Not to Yawn, You Are What You Eat, and Reach for the Stars.

Ji Baek founded Rescue Beauty Lounge, New York's top nail salon, in 1998, and soon after started garnering attention in "Vogue", "InStyle", "Allure", "New York", "Lucky", "Jane", "Elle", "Harper's Bazaar", "The New York Times", "WWD", and more.