Stitch 'n Bitch Crochet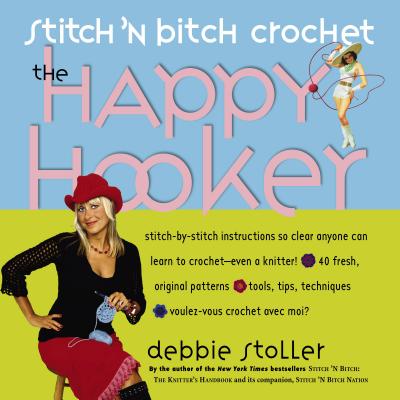 Stitch 'n Bitch Crochet
The Happy Hooker
Workman Publishing, Paperback, 9780761139850, 292pp.
Publication Date: February 13, 2006
* Individual store prices may vary.
Buy Now
or
Shop Local
Enter your zip code below to purchase from an indie close to you.
Description
Debbie does crochet Debbie Stoller, the knitting superstar, has been leading an entire movement of hip young knitters with her "New York Times" bestseller" Stitch n Bitch" and its follow-up, "Stitch n Bitch Nation," together with over 521,000 copies in print. But guess what? For every one knitter in the world there are three crocheters which translates into millions of hip, crafty, 18- to 35-year-olds ready to be happy hookers with Stitch n Bitch attitude, sexiness, ingenuity, and cool.
Written in the author's cheeky chick style, this heavily illustrated book featuring four-color photographs and instructional illustrations throughout is chock-full of instruction, inspiration, and to-die-for designs, from a Fishnet Skullcap to a lacy evening wrap. For knitters and new crafters exploring the hook comes the primer: the advantages of crochet and the ways in which knitters (and nonknitters) benefit by learning this sister craft; a discussion of tools; all the cool yarns available, and what the different gauges mean; plus basic techniques and stitch patterns including the chain stitch, picot, flowers, filet crochet, changing yarns, and finishing. Then come 40 fabulous, funky projects the kind that make Stitch n Bitch rule for crocheters: Pom Pom Capelet, Retro Clutch Purse, Anarchy Irony Hat, Ms. Pac Man Change Purses, Doris Daymat, Va-Va-Va Voom Bikini, Animal I-Pod Cozies, Kid's Sock Monkey Poncho.
No, these aren t your grandma's doilies.
About the Author
Debbie Stoller is the bestselling author of the "Stitch'n Bitch" series of knitting books and calendars. She comes from a long line of Dutch knitters, has a Ph.D. from Yale in the psychology of women, and is the editor-in-chief of "Bust" magazine. She lives in Brooklyn, New York.
Robyn Goodmark is an elementary school teacher, musician, hiphop dancer, and cofounder of Northern State, a female-fronted hip-hop band that has just released its third album. She lives in New York City.
Adrienne Yan's illustrations have appeared in "YM," "Family Circle," and many other magazines, as well as the Stitch 'n' Bitch book series. She lives in San Francisco.
John Dolan is a critically-acclaimed artist living and working in Shoreditch, east London. For the past three years he and his dog George have sat out on Shoreditch High Street, while John sketched the world around him. Some of his sketches formed part of John s first solo show, George the Dog, John the Artist, which was a sell out in September 2013.