One Shoe Blues [With DVD]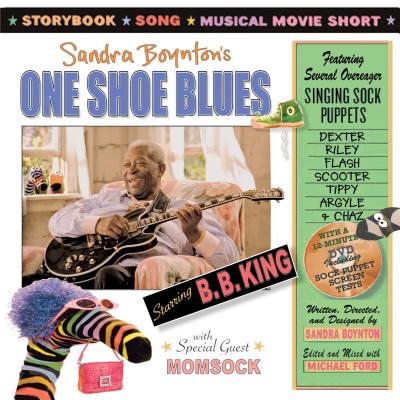 One Shoe Blues [With DVD]
Workman Publishing, Hardcover, 9780761151388, 59pp.
Publication Date: October 2009
* Individual store prices may vary.
Buy Now
or
Shop Local
Enter your zip code below to purchase from an indie close to you.
Description
It's a highly original new book and a Boynton filmmaking debut. "One Shoe Blues" is a thoroughly captivating story and a dazzling music video. And what an unexpected yet oddly perfect team: Sandra Boynton and wait for it B.B. King Boynton writes, designs, and directs (her first film ever), B.B. stars (singing, playing, and turning in a wry and brilliant comic acting performance), and exuberant Boynton sock puppets chime in.
The song that first appeared to widespread acclaim in the celebrated "Blue Moo: 17 Jukebox Hits from Way Back Never" now becomes a true star turn. The DVD showcases B.B. King's legendary musical talent and sublime good-natured performance. Boynton writes the companion storybook with her unmistakable cadence and humor, and illustrates the book with lively and fanciful photographs from the video and beyond. Sock puppets lend pizzazz and gravitas throughout.
The subject is pure fun that every child (and parent) can relate to, the story of a missing shoe. Sporting a lone green sneaker, B.B. King sings the "One Shoe Blues" while his faithful guitar, Lucille, comments here and there with those famous soulful blues notes. A supporting cast of sock puppets make brief surprise appearances and, in the case of that saxophone-playing, rhinestone-sunglasses-wearing Momsock, grills B.B. on where he might have left his shoe.
The answer, so plain to see, will tickle kids again and again.
Read it. Watch it. Sing it. It's fun from every direction.

About the Author
Sandra Boynton is a popular American humorist, songwriter, children s author, and illustrator. Boynton has written and illustrated more than forty books for both children and adults, as well as more than four thousand greeting cards and four music albums. She has designed for various companies calendars, wallpaper, bedding, stationery, paper goods, clothing, jewelry, and plush toys.

B. B. King was born in 1925 on a cotton plantation in Mississippi. He is the most renowned blues musician of the past 40 years and has released over fifty albums, many of them considered classics. The recipient of numerous honors, B. B. King has been nominated for 24 Grammy awards and was given a lifetime achievement Grammy in 1987. In 1990, he received the Presidential Medal of the Arts and in 1995 he was an award recipient at the Kennedy Center Honors. In 2000, B. B. King had his first two platinum records, Riding with the King with Eric Clapton, and Deuces Wild.
Dick Waterman founded Avalon Productions, the first agency devoted exclusively to managing and promoting blues musicians. He has managed legendary artists Son House, Skip James, Booker White, Mance Lipscomb, Arthur Crudup, Robert Pete Williams, John Hurt, Buddy Guy, Junior Wells, Luther Allison, Magic Sam, Otis Rush, and most notably, managed Bonnie Raitt for 15 years.
Charles Sawyer is the author of the authorized biography of B. B. King.

Monday, Dec 21, 2009
Illustrator, kids' book author and songwriter Sandra Boynton can add filmmaker to her resume. She has turned her song One Shoe Blues into a music video starring B.B. King and an ensemble of colorful sock puppets. Boynton tells NPR she makes no distinction between kids and adults who will enjoy her work. More at NPR.org