Generation T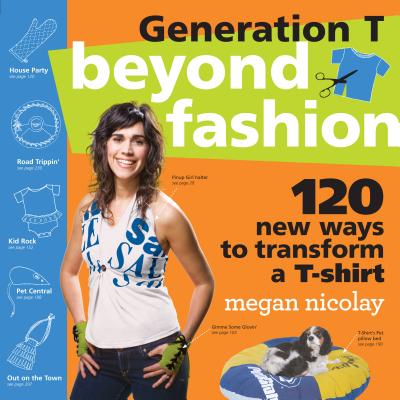 Generation T
Beyond Fashion: 120 New Ways to Transform A T-Shirt
Workman Publishing, Paperback, 9780761154105, 308pp.
Publication Date: June 2009
* Individual store prices may vary.
Buy Now
or
Shop Local
Enter your zip code below to purchase from an indie close to you.
Description
Megan Nicolay revolutionized the T-shirt. She repurposed it, reinterpreted it, reinvented it and created the #1 craft book in the nation, "Generation T," which continues to dominate. Now she explores new ways to slash a tee, scrunch a tee, and sew a tee with "Generation T: Beyond Fashion." A collection of 120 projects for every occasion, it takes the humble yet ever-malleable tee in dozens of new directions from baby gifts to pet accessories, stuff for the home, the car, the road, the boyfriend.
The rallying cry is: Don't buy; DIY. The result is hip, imaginative, crafty, and very green. There's a basic primer on techniques knotting, sewing, braiding, lacing plus a full tutorial on embellishing. And then an amazing range of projects. There's fashion, of course: all-new halters and tank tops, sexy gaucho pants, a baby-doll dress, twisted shrug, and hooded scarf. But also baby gifts: Jumper for Joy, Baby Back Bib, Wild Thing Blankie. Home decor: plant hanger, wine cozy, toilet seat cover, ruffled apron, and Spastic Plastic (grocery tote). Grill mitts and bolo ties for the guys, doggie tee and stuffed cat toys, a steering wheel cover for the car, the Ants Go Marching (picnic blanket), and Beach Bum (beach caddy). Projects range from the simplest no-sew to intermediate, and all have easy-to-follow illustrated directions plus, how to throw your own Tee Party.
Time to get your craft on.
About the Author
Megan Nicolay has been traveling around the country like a pied piper of DIY, giving workshops and consulting at craft events since the publication of her bestseller, "Generation T". She is a founding member of the Department of Craft, a New York City-based craft collective, and lives in Brooklyn, New York.