My Dog!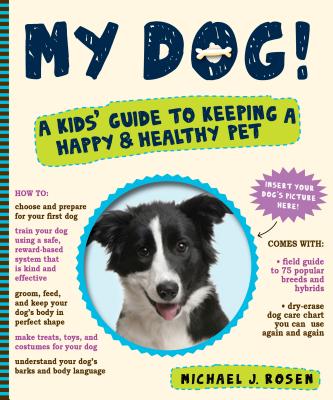 My Dog!
A Kids' Guide to Keeping a Happy & Healthy Pet
Workman Publishing, Spiral, 9780761158417, 258pp.
Publication Date: October 5, 2011
* Individual store prices may vary.
Not Currently Available for Direct Purchase
or
Shop Local
Enter your zip code below to purchase from an indie close to you.
Description
A primer, an owner's manual, a field guide, and more, "My Dog " is the complete book for every child who has a dog whether it's a brand-new puppy or adopted mutt, or a beloved pooch who's been in the family for years. And it couldn t be more kid-friendly, with its customizable cover (paste in a picture of your dog), tabbed chapters, and a pull-out dry-erase dog care chart.
Written by Michael J Rosen, author of "Kids Best Dog Book," and dubbed a fidosopher by "The Washington Post," "My Dog " covers everything from the basics of handling, feeding, and grooming to history, lore, and the kinds of fun facts kids will always remember (dogs have a sense of smell a million times better than ours; the oldest dog on record, Bluey, lived to be 29). It tells kids how to train their dogs, with illustrations including action commands like "Sit," "Stay," "Come," and "Go to Your Place," and behavioral commands like "Speak" and "Thank-You." There are the simple health checks kids can do. A How to Speak Dog section to insure that kids and dogs remain best friends including why a raised, wagging tail doesn t always mean " I m happy, " and the important difference between a "Yelp " and a "Yowl " Even a recipe for Carob Cocoa for kids and dogs to bond over after a brisk winter walk.
Included with the book is a field guide to 75 breeds of the most popular and family-friendly dogs kids are likely to meet each illustrated with a gorgeous full-color photograph and profiled with essential facts, including behavioral insights that make it an invaluable guide to choosing a family pet.

About the Author
The editor of More Mirth of a Nation: The Best Contemporary Humor, Michael J. Rosen has been called the unofficial organizer of the National Humor Writer's Union, a pretty good idea for an organization that could offer all kinds of benefits to its struggling members (currently numbering more than 300 who have never been published in The New Yorker or aired on NPR). He has been called other things as well, like in third grade, and then in seventh grade especially, by certain older kids known as "hoods," who made his life miserable, specifically during gym class, lunch period and after school. Later, much later, the Washington Post called him a "fidosopher" because of his extensive publications on dogs, dog training, and dog-besotted people. The New York Times called him an example of creative philanthropy in their special "Giving" section for persuading "writers, artists, photographers and illustrators to contribute their time and talents to books" that benefit Share Our Strength's anti-hunger efforts and animal-welfare causes. As an author of a couple dozen books for children, he's been called...okay, enough with the calling business.
For nearly twenty years, he served as literary director at the Thurber House, a cultural center in the restored home of James Thurber. Garrison Keillor, bless his heart, called it (sorry) "the capital of American humor." While there, Rosen helped to create The Thurber Prize for American Humor, a national book award for humor writing, and edited four anthologies of Thurber's previously unpublished and uncollected work, most recently The Dog Department: James Thurber on Hounds, Scotties and Talking Poodles, happily published by HarperCollins as well.
In his capacity as editor for this biennial, Rosen reads manuscripts year round, beseeching and beleaguering the nation's most renowned and well-published authors, and fending off the rants and screeds from folks who've discovered the ease of self-publishing on the web. Last summer, Rosen edited a lovely book, 101 Damnations: The Humorists' Tour of Personal Hells; while some critics (all right, one rather outspoken friend) considered this a book of complaints, Rosen has argued that humor, like voting and picketing and returning an appliance that "worked" all of four months before requiring a repair that costs twice the purchase price, humor is about the desire for change. It's responding to the way things are compared to the way you'd like things to be. And it's a much more convivial response than pouting or cornering unsuspecting guests at dinner parties.
Robert James was born in a log cabin on the South-side of Chicago, a long time ago. At 3 years of age he began his baseball career and his first time at bat hit a home-run that landed in Wrigley Field, and - sorry, I got carried away. Allow me to try again. Robert James was born a long time ago in Chicago, Illinois. He moved to Ohio, also a long time ago, and settled in Sharonville, near Cincinnati, where he met his wife, Susan, and together they raised daughter, Maggie, a long time ago.
For the last seventeen years, Will Shively has created award-winning photographs in the areas of architecture and fashion, for publications such as Newsweek and Dance Magazine. Fishing with Dad is his first children's book.