How to Shoot Video That Doesn't Suck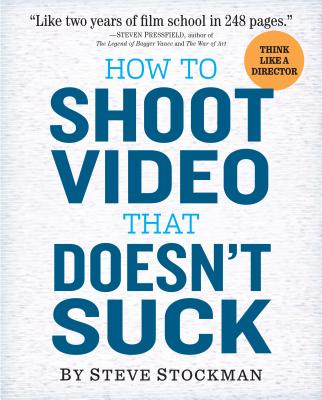 How to Shoot Video That Doesn't Suck
Workman Publishing, Paperback, 9780761163237, 248pp.
Publication Date: June 2, 2011
* Individual store prices may vary.
Buy at Local Store
Enter your zip code below to purchase from an indie close to you.
or
Buy Here
Description
Video is everywhere. Over 90 percent of American homes have some form of video camera, we upload 24 hours of video to the Web every minute, and we watch videos two billion times a day on YouTube. Problem is, most of it is bad--but here's how to make it not only better, but also great.
How to Shoot Video That Doesn't Suck is all about the language of video. It's about how to think like a director, regardless of equipment (amateurs think about the camera, pros think about communication). It's about the rules developed over a century of movie-making--which work
just as well when shooting a two-year-old's birthday party. Written by Steve Stockman, the director of Two Weeks (2007), plus TV shows, music videos, and hundreds of commercials, How to Shoot Video That Doesn't Suck explains in 74 short, pithy, insightful chapters how to tell a story and entertain your audience.
Here's how to think in shots--how to move-point-shoot-stop-repeat, instead of planting yourself in one spot and pressing "Record" for five minutes. Why never to shoot until you see the whites of your subject's eyes. Why to "zoom" with your feet and not the lens. How to create intrigue on camera. The book covers the basics of framing, lighting, sound (use an external mic), editing, special effects (turn them off), and gives specific advice on how to shoot a variety of specific situations: sporting events, parties and family gatherings, graduations and performances. Plus, how to make instructional and promotional videos, how to make a music video, how to capture stunts, and much more. At the end of every chapter is a suggestion of how to immediately put what you learned into practice, so the next time you're shooting you'll have begun to master the skill. Accompanying the book is a website with video clips to illustrate different rules, techniques, and situations.