The Velveteen Rabbit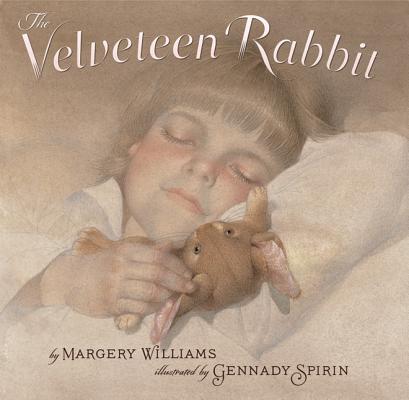 The Velveteen Rabbit
Or How Toys Became Real
Cavendish Square Publishing, Hardcover, 9780761458487, 47pp.
Publication Date: February 1, 2011
* Individual store prices may vary.
Buy at Local Store
Enter your zip code below to purchase from an indie close to you.
or
Buy Here
Description
Still as poignant today as it has ever been, Margery Williams' "The Velveteen Rabbit" is one of the best-loved children's books of all time.
In the nursery, only the toys that are old and wise truly understand what it means to be Real. The Velveteen Rabbit, a newcomer to the nursery, asks one of the most knowledgeable toys, the Skin Horse, what being real means.
"Real isn't how you re made," says the Skin Horse. "It's a thing that happens to you. When a child loves you for a long, long time, not just to play with, but REALLY loves you, then you become real. It doesn't happen all at once. You become..."
And so begins the Velveteen Rabbit's journey towards becoming real through the love of a child....
About the Author
Margery Williams Bianco, who published under the pen name Margery Williams, was an English-American author of children s books best known for her enduring classic, The Velveteen Rabbit, or How Toys Become Real. Born in London, England, Williams spent most of her youth in the Unites States, returning to London at the age of nineteen hoping become a published author. While some of her novels and children s books were printed, including her 1902 novel for adult audiences, The Late Returning, none of these early works gained much recognition. Williams commercial success came only after her return to the United States with the 1922 publication of The Velveteen Rabbit, or How Toys Become Real, which was an instant success. Williams continued to write for the remainder of her life, eventually penning more than 20 titles before her death in 1944.

Gennady Spirin was born on Christmas Day in 1948 in a small town near Moscow. He is a graduate of the Stroganov Academy of Fine Arts in Moscow and has received many awards for his work both in the United States and internationally. Books he has illustrated include "The Most Amazing Creature in the Sea, Life in the Boreal Forest, Frog Song, The Deadliest Creature in the World, " and" The Greatest Dinosaur Ever". Mr. Spirin lives in Princeton, New Jersey, with his wife and three sons.